STEL Order offers many options and possibilities when it comes to creating invoices online using your PC, smartphone or tablet. In this article we will explain the main features that will allow you to record and present all of your invoice information.
All you need to do is click on [Invoicing > Invoices] and then select [New].
Now you will be able to select the appropriate client or create one if they are not already on the system.
Next, you will need to click on [Add Item] to include the products, services, prices, descriptions and other information that needs to go in the invoice.
You can include products that are active within your online catalog, or create new ones if you wish to use them just this one time.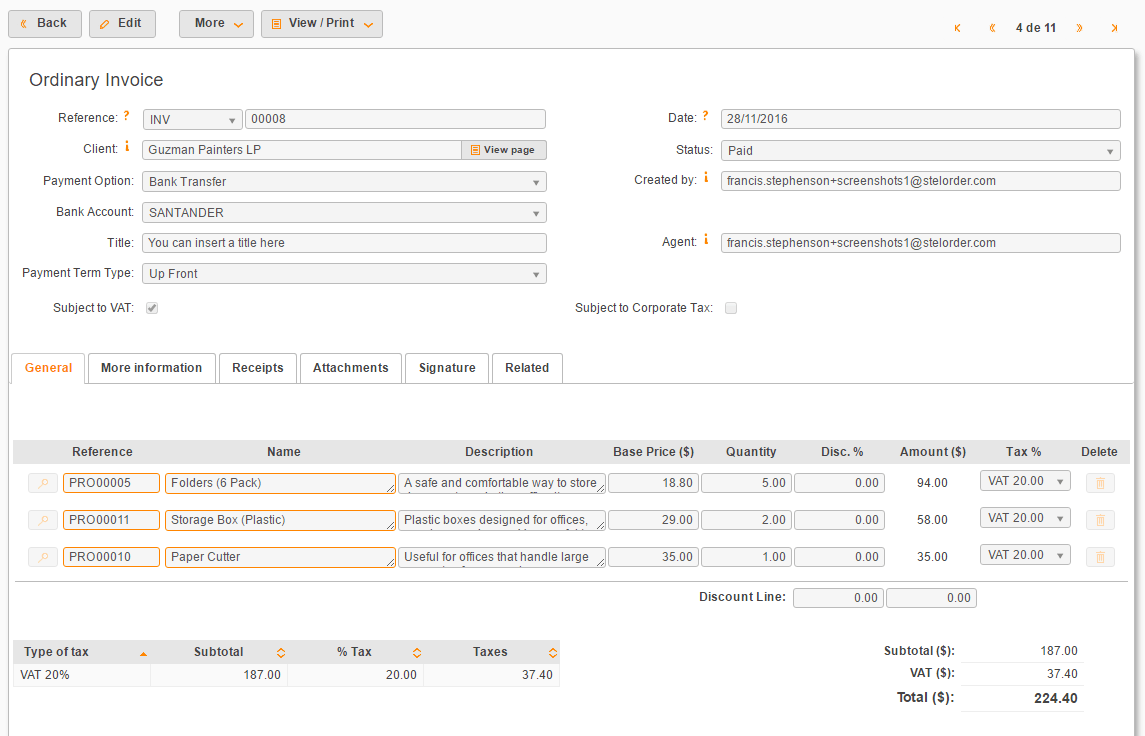 You can set a payment option, payment terms, add notes and observations and other detailed information. Once you have added all the desired information, just click on [Save].
STEL Order allows you to view your finished invoices by clicking on [View / Print]. There are many different options to view your invoice in different formats, but you can set one of them as your default view by clicking on [More > Set to default].
Once you have confirmed that the invoice has the correct format and style that you require, you can send it via email to your clients from STEL Order.
Simply click on [More > Send].
Select the format and means with which you wish to send your invoice, as well as the specified address. If you have included an email address within the clients page, then it will load by default when you select this option.
Customize your invoices and know right away when your clients open them
You can customize your invoices, estimates and other document templates using STEL Order. All you need to do is go to [Settings > Personalized Templates].
STEL Order also comes with an integrated read receipt system to allow you to know when a client has received and read your invoices, estimates and other documents.
You will also be free from worrying over referencing your documents as STEL Order can automatically generate numerical reference numbers for your documents in relation to each other.
Remember to set your invoice as paid once the amount has been transferred into your account.
You can also create invoices with your smartphone or tablet thanks to the downloadable STEL Order app. You will be able to send invoices to your clients, regardless of where you are.
Inside the [More] option, you can carry out the following actions:
[

Delete

]

: This will delete the invoice.

[

Download

]

: To download a PDF copy of the document.


You can also download the invoice in various other formats, such as E-Invoices.

[

Generate

]

: This will generate another type of document using the same information, entries and data. This will close the current document.

[

Duplicate

]

: This will duplicate the document as any other type of document, without affecting the current one you are viewing.


[

Send

]

: This will send the document. It will automatically load the contact information for the client that the document is intended for but you can modify this and include any other contact on the system.
To find out more about how to customize your email templates, please take a look at this help center article about configuring emails using STEL Order


[

Export

]

: To generate a .xlsx copy of a specific document, for example.


[

Margin

]

: This will bring up information about the cost effectiveness of the operation that is present within the document.
[Create Event

]

: This will allow you to create an event within your calendar that is linked to the current document.
You can also use the [View/Print] button to view or print the document.
This will bring up a list of different printing and visualization options, depending on the type of document that you are working on. 
The "Set as default" tick-box will use the current settings that you have selected for every document whenever this feature is used.
How to create invoices online: much more than just products and services on your documents
More Information tab:

Comments: Additional information that you wish to include in the document. It will appear at the bottom of the invoice. 
Internal Comments: Internal information about the document that we wish to take note of without having it appear on the document.
Email Sent Date: To know when it was sent, who it was sent to and when it was read.
Currency: The currency used for this document.
Currency Exchange Rate: The exchange rate for the currency used within the document when measured against the default currency for your company.
Attachments tab:
Here you can attach documents and images that you can take and upload using your smartphone or tablet. You can send send these alongside your invoice when emailing your client.
Related tab:
Here you will find all of the documents that are related to your invoice. For example, estimates, work orders, delivery notes and every related event and incident.