You have probably wondered, at some point, how it might be possible to integrate an online calendar into your company's database.
STEL Order already comes with an online calendar that's connected to all of our software. Here you can create and manage multiple events, daily or weekly tasks, custom notifications, user assignments, etc.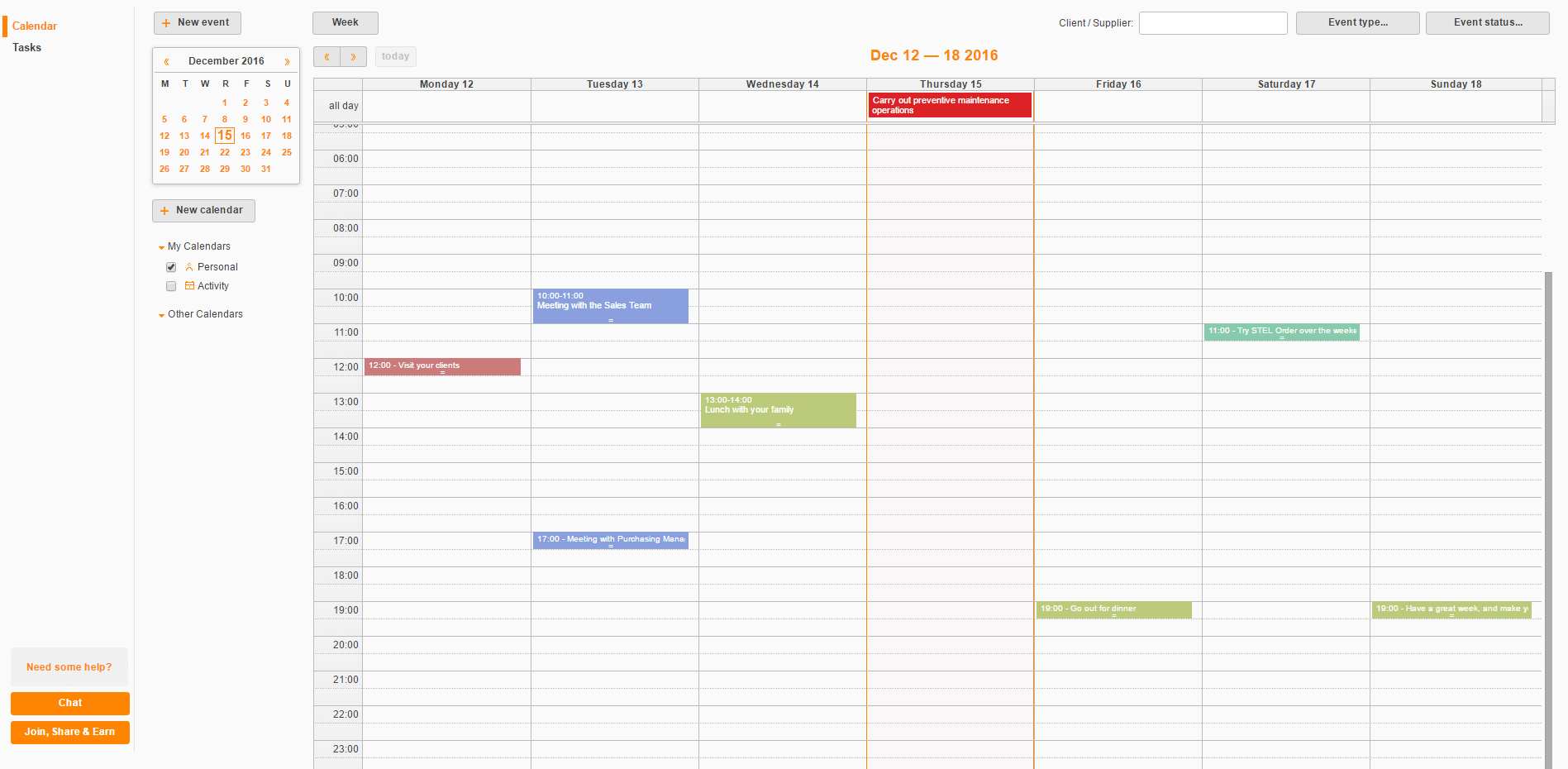 What are the different 'types' of calendars within this section?
Creating a new calendar corresponds to creating a separate diary which can be managed independently.
All of these calendars can be shared with any desired user on the system. This allows you to restrict certain users and user groups so that they may only see the calendar that corresponds to them, or so they can participate in other calendars.
For example, certain companies have separate calendars for office staff (which are shared by everyone in the same team or department) and for every technician or consultant (which are unique to each worker).
This enables you to assign incidents to your technicians and organize visits or meetings for different salespeople individually.
The amount of calendars that can be created using STEL Order is unlimited (one per staff member or one per department, for example) and you can manage events separately for each one.
What are 'events' within your online calendar?
Events are meetings, visits, incidents, tasks, etc. They are the main elements within your online calendar.
When an event is created, you will need to specify which calendar it is shared to. Only users that have access to this calendar will be able to view the event.
If you wish to share an event with one or more users who do not have access to a certain calendar, you can also add specific users to an event manually at any time.
To create an event, click on the section of the calendar where you wish to create it, or simply click on [New event].
After doing this, you will be given several options to customize your event, such as:
Calendar: As we mentioned previously, the event will be shared with every user that has access to the calendar where the event is being created.
Frequency: How often the event happens (hourly, daily, weekly, monthly, yearly, etc).
Duration: How long the event lasts.
Event Status.
Event Type.
Event Location.
Associated documents.
Associated clients.
Additional users for the event: Additional users that we want to invite to the event outside of our shared calendar.
Notifications and reminders.
Description.
Attached documents.