The best invoicing software that makes your business and your life easier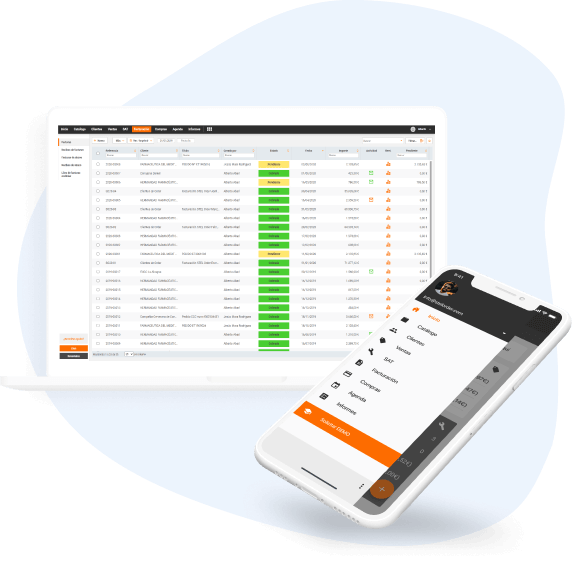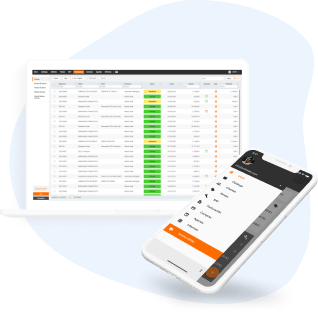 The best rated billing program for the self-employed and companies
Don't know how to make an online invoice? Do you want your invoices to be available anywhere and on any device?
STEL Order is also a powerful billing program that allows you to manage all the information related to your customers' invoices, from their mobile app for phones and tablets and from the web version for your PC.
With the STEL Order online invoicing module you can create, consult, download and send your invoices in PDF. In addition, you can manage their collection status and consult their payment forecasts, issue SEPA remittances and electronic invoices, download your invoice book and your list of receipts to send them to your advisor… and much more!
It is your definitive invoicing program.
With our online, mobile and cloud billing program, it has never been easier to make and send an online bill from your mobile or PC..

Recurring billing
With the automatic tasks you optimize all your recurrent billing processes and speed up the planning of periodic maintenance. In a matter of seconds you create and send thousands of invoices automatically.

Online payments
Collect your invoices, quotes or other documents by card or Paypal. Imagine charging your bills with your mobile phone by card, after providing a service or delivering goods. Make the collections in an easy, fast and safe way.

E-invoice
With STEL Order you will also be able to quickly and easily generate your E-Invoices according to your country and work with Public Administrations or large companies in electronic format, you will obtain the files according to the needs of the country's legislation.

Payment notices
Notify the collection of your invoices, total or partial. Know the balance of each client, which are exactly the invoices they owe you and the amount owed for each one of them. Find out the forecast of your pending invoices.

Refound Invoices
STEL Order allows you to manage the cancellation of invoices and returns of material through credit memo invoices, which are synchronized with your stock and billing reports, so that your inventory is updated automatically.

SEPA Remittances
It generates SEPA bank remittances online, in all its variants: CORE, COR1 and B2B. In this way, you can create the files that you upload to your bank, so that it can take care of the collection of your bills itself. Compatible with all banks.

Invoice templates
Customize your business documents, quotes, orders, delivery notes or invoices to show your logo, tax information and corporate colors. Configure the economic and descriptive information you want to show and hide.

DTE Billing
Electronic Invoice System for Chile, you will be able to comply with the IBS requirements, send your DTE in a simple, fast and automated way from any device and start improving your company's processes in an easy and safe way. If you don't love managing your business with STEL Order we will give you your money back.
Its main benefit you will notice right away: it makes your business and your life easier
Easy, fast and safe
Billing with STEL Order is the most secure way to have all your business management information centralized in the cloud, with backup and no loss of information.
Better decisions
Make safe decisions based on data. Improve the decision making process of your business, through estimates that you can calculate with billing, treasury or stock reports.
Better control and tracking
STEL Order controls document traceability, avoiding errors in document tracking and correlation, reducing costs and improving resource optimization.
Invoice anywhere
With the STEL Order APP you can invoice wherever you are. Create invoices online, download them and send them with acknowledgement of receipt to your clients, through the web, or from your mobile or tablet.
Increased efficiency
Eliminates duplication and automates tasks you used to do manually. Direct your attention to what's important: sales and your customers. Save time in the management of your company with STEL Order.
The best support included
We include the support to help you in your day to day. You will have our team of professionals available to you by phone, mail or chat. In addition to a help center on our website.
Correlative invoice series
STEL Order performs the correlative listing of invoices automatically, based on the date of issue and according to the regulations in force for self-employed persons, professionals and entrepreneurs.
Task automation
Automatically send invoices to your customers and generate monthly invoices with all delivery notes in one click. Save time on your company's invoicing and dedicate it to making it grow.
The ideal management software for many businesses and for yours too.
I'm sure you know professionals like you who use STEL Order to manage their businesses.
Eight years ago we started to create STEL Order thinking that it would be an ideal management tool for most sectors. We are continuously evolving, including functionalities and improvements that thousands of professionals like you transfer to us every day.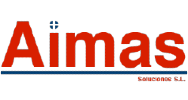 Technical service company specialized in professional sound.
From an economic point of view, STEL is a good investment. For a very affordable price we have a tool that is called to be a high level billing program.
At the beginning of the year, our economic manager, Guillermo Chicote, contacted STEL Order. Since then, our company has had an agile, accessible and efficient tool that has allowed us to start a new activity thanks to its stock control, purchases and sales.
"One of the things that make me trust STEL is their capacity to incorporate new tools and adapt their product to the demands of their clients", says Guillermo Chicote about his experience with STEL.
In addition, thanks to their team and support, any doubt or incident is resolved in a short period of time, which generates a sense of security.
In short, STEL Order is highly recommended for all those companies and professionals who want to have all the information about their activity at their fingertips.
AIMAS Soluciones Audiovisuales
www.aimas.es

Repair services for blinds and automatic doors.
One of the best billing programs we have ever had. It speeds up the documentary management of all the invoices for the repairs that we manage in 24 hours, adapting to our need for immediate invoicing.
We have absolutely all commercial documents with traceability. We can know, at all times, the status of our work and the payment of our customers. In addition, with the incorporation of online payment in the invoices, we have improved the time of collection of the same.
STEL Order has improved our company in every way. Now, we have everything more organized and it has made us save a lot of work and time that made us be less with our relatives.
It is a very good investment (probably the best) for my business. I have already recommended STEL Order several times and will continue to do so.
Their help and support team is extraordinary. In our company, we would define STEL Order with one word: Organization!
Persianas domésticas
www.persianasdomesticas.com

Execution and implementation of electrical engineering and automation projects.
STEL Order helps us to offer the best solutions to our customers' projects or services, guaranteeing their total satisfaction, thanks to the improvements in customer service we have obtained.
In our company we offer the best cost-benefit, thanks to the optimization of time in each project, with STEL Order invoicing and its document management, that has been possible with a better management of the business resources it provides us with.
Your support is fast, good predisposition to solve doubts and clarifications. People prepared and the view on improvements and progress. The program is complete and simple at the same time. Very satisfied.
Our company has improved considerably. Being able to invoice, manage clients, suppliers, expenses and the internal communication of our business, in the same place, is priceless.
We recommend trying STEL Order as an invoicing program and benefit from all its functionalities.
IST Honduras S de R.L
www.isthonduras.com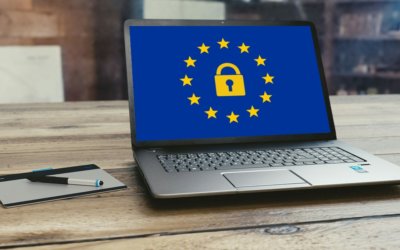 Do your invoices meet new data protection requirements? In May 2018, new data protection regulation came into force. In the previous article, we saw how GDPR should be applied in our company. However, it is also important to know that this data protection regulation...
Try the ERP Management Software your company needs for FREE, with all the help you need