Manage your technical services company using your smartphone or tablet
Manage incidents and notifications for corrective maintenance.
Your online Technical Service software on your PC, smartphone or tablet

Simplify and reduce your office workload
STEL Order allows you to receive delivery notes and work orders which will be ready to include in an invoice instantly.

Remove mistakes and the need to print everything
Documents without mistakes, created and sent instantly via email. Doing much more in much less time.

Assign incidents and notify your technicians
Assign incidents or notifications to a technician so they can receive them instantly on their smartphone.

Collect and digitize your clients signature
Your clients will be able to sign an invoice or work order directly on your smartphone or tablet.

Synchronize your technicians workload in real time
All of your team will be working in harmony, each with their own privileges and roles which you control.
Your invoices and delivery notes on your smartphone
You will be able to generate a work order, delivery note or checklist instantly with your smartphone or tablet.

Locate your technicians and clients on the map
You can view the location of your technicians, clients and ongoing incidents in real time on Google Maps.

Preventive and corrective maintenance operations
Incidents and notifications are used for corrective maintenance operations. Your smart calendar for your preventive operations.
Connect your technicians with your office
STEL Order is ideal for technical assistance services 
Make the most of STEL Order's mobility and features to maximize efficiency and help you manage your technical and maintenance services. STEL Order is ideal for technical assistance services (TAS), installations, maintenance repairs, machinery, electricians, security, construction and other sectors and field services.
Manage incidents and notifications for corrective maintenance
A client contacts you to let you know that something isn't working the way it should. Your next step will be to log an incident or note on STEL Order and assign it to a technician. The technician will automatically receive a push notification on his or her smartphone or tablet which will bring up detailed information about the incident, the priority level of said incident and the clients contact details (number, address, history, etc).
Technicians will be able to use their GPS to reach the incident quickly. From here, the technicians can get to work and subsequently create any necessary document for that incident, such as an invoice, delivery note, checklist or an additional order for spare parts, for example.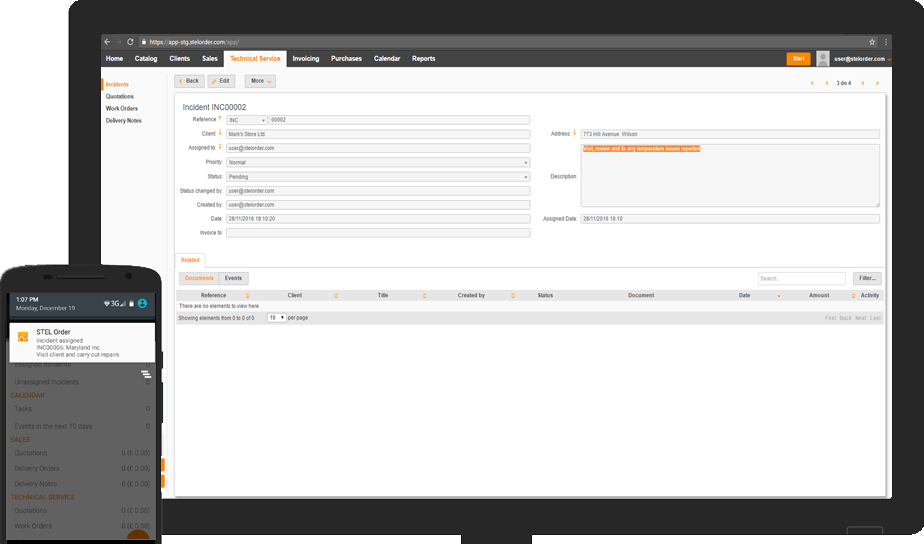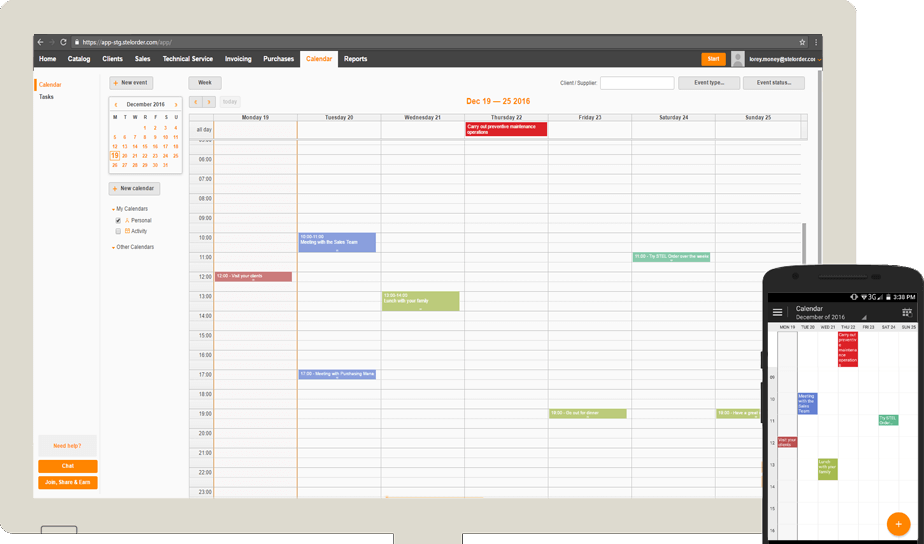 A shared online calendar for preventive maintenance
STEL Order provides you with a useful and accurate event center with shared tasks which can be used to plan and organize work within your business.
Create work calendars and share them with your technicians. For example, if you provide preventive maintenance services where you carry out three inspections per year, you can create an event in your calendar and make it as frequent as you need to after relating it to the appropriate client. As the date draws near, you will receive a reminder. You will also be able to use the event as the starting point to create a delivery note, work order, invoice or any other document.
You can also attach images and other documents to your calendar. Save time, minimize mistakes and improve communication within your company by using STEL Order's smart calendar.
Find out more about our online calendar feature.
Collect signatures for your documents using your phone or tablet
You and your technicians can generate estimates, delivery notes, orders and invoices right in front of your clients. This allows you to include any additional information, such as spare parts used, labor costs, travelling expenses, observations and anything else you need to record.
You can also collect signatures from your clients using your smartphone or tablet. Once the document has been signed, you can forward it to your client or your colleagues to eliminate the need for paper documents. Your main office will also receive a notification and will be able to review the document as soon as it has been created.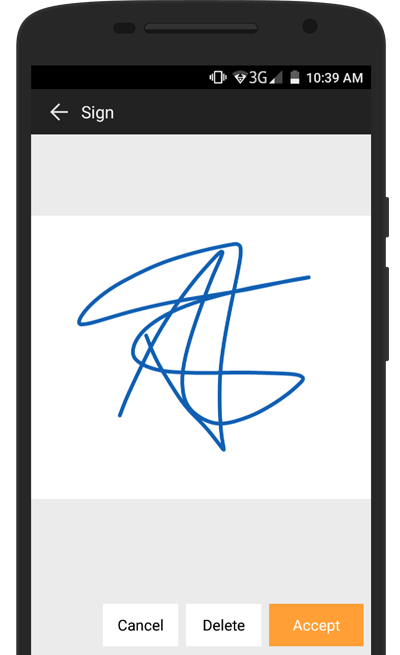 Use STEL Order's online catalog on your smartphone to sell and check technical information
Showcase your online catalog on your smartphone or tablet and include products, services, spare parts and labor costs. Check information about prices and stock amounts as well as enabling your technicians to use their smartphones and tablets to access technical information that will help them carry out their jobs. For example, you can attach an instruction manual for a machine or images of an installation.
You can take pictures of your completed work and update your catalog using your smartphone or tablet too.
Find out more about our online catalog feature.
Manage your business even without an internet connection
When we first created STEL Order, we made it clear that it needed to work with and without an internet connection. This allows you to access your company information even when working in locations that offer little to no signal. So don't worry, your catalog and client lists will be available to you at all times.
As soon as you're online again, all of your information will be updated and any documents that you created will be synchronized with your main database.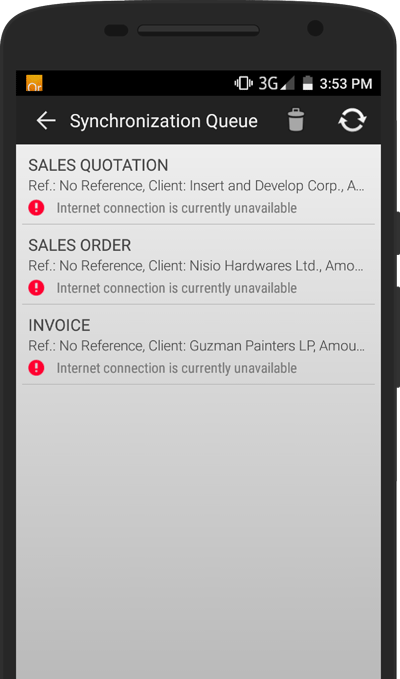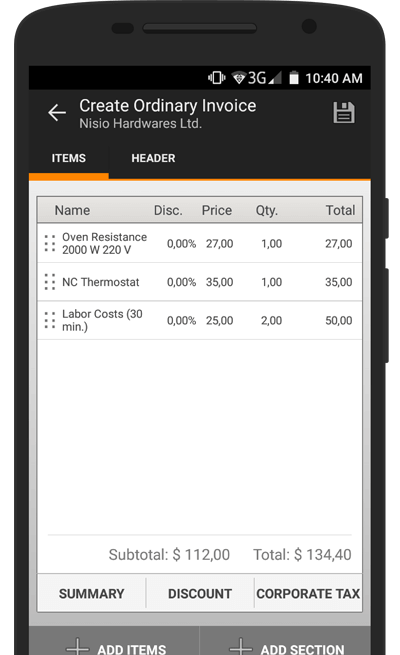 Invoice your clients as soon as you finish the work
STEL Order enables you to invoice your clients at any time, using your smartphone or tablet while you are carrying out the work or from the comfort of your home or office. It also includes everything you need to manage and create invoices for technical and maintenance services.
Find out more about online and mobile invoicing.
Configure multiple user roles
If you have a team of technicians in your company, you can configure STEL Order so that only relevant and specific information is displayed to them (for example, you can give them access to creating but not deleting invoices or remove the management reports option from their menu).
Configure different user roles for your team so they can view, edit or create anything on the system. Alternatively, you can restrict their use to certain modules or features that are applicable to their role.
Printing documents on the go
You can also print all of your documents (invoices, estimates, orders, delivery notes) using your smartphone or tablet and a portable Bluetooth printer. You will be able to print your documents in a ticket format or A4 paper, depending on your printer. This allows your technicians to print out copies of signed documents as soon as the work is done.
STEL Order also allows you to send your documents over in an email or even share them through Whatsapp. This can help reduce your paper costs as well as helping the environment.
Find out more about printing your documents on the go.
Watch the following video to see STEL Order in action
It shows the processes to manage corrective maintenance from incidents or warnings and preventive maintenance through the regular planning of the agenda.
The mobile phone generates an invoice or invoice including the spare parts and labor used, the client's signature is collected with his mobile phone and the signed document is sent to the customer.
Instantly, his office colleagues, get the job done.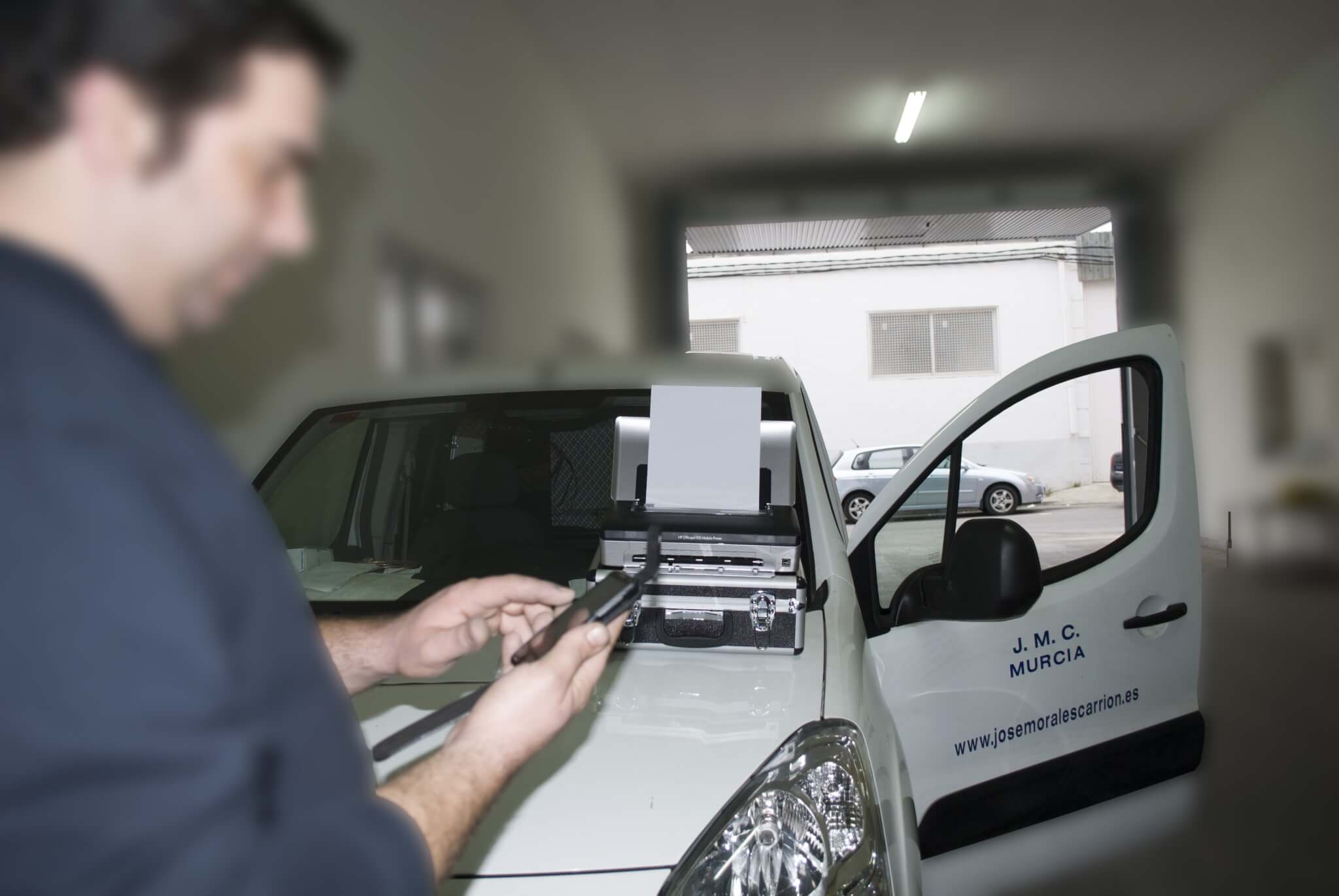 Turn emails in incidents with STEL.
With STEL Order Inbox, all emails that you receive, at the email address you choose, will automatically become incidents.
Invite your customers to communicate with an email the damages, notices or incidents. Save time in the management of your company's technical assistance services.
Make your contact forms on your website generate a copy of the mail to your mailbox addresses: To create an incident automatically and manage the correct maintenance, or also to manage your sales opportunities or potential customers.
Some of the functionalities of the ERP online and mobile that revolutionizes the management of your business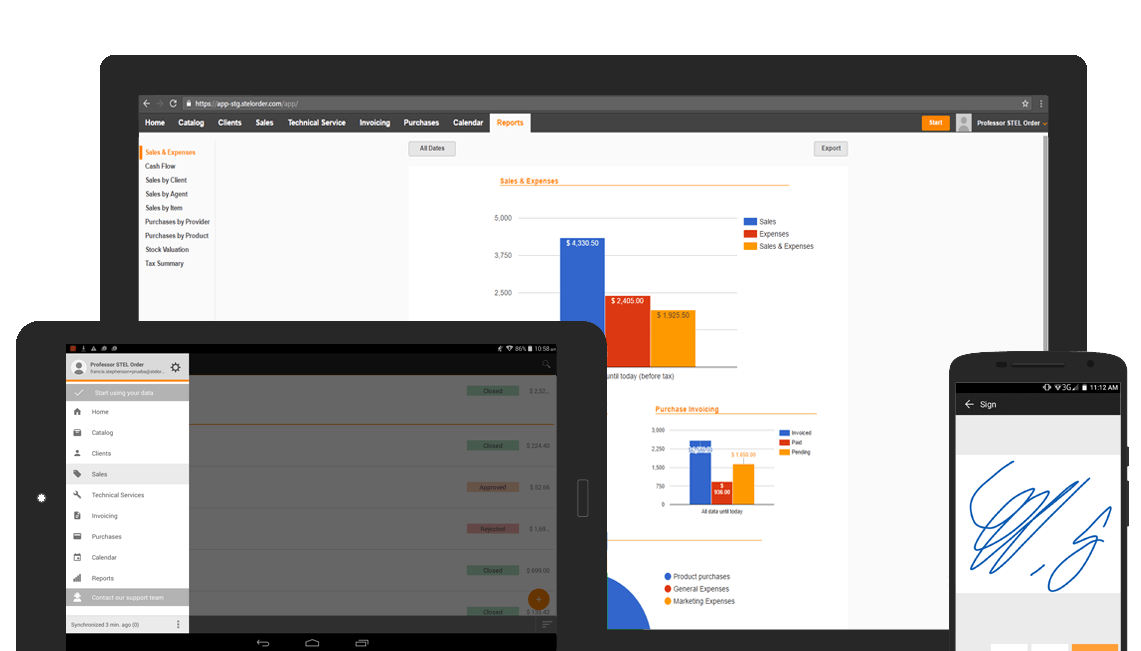 Online Catalog
An online and mobile catalog integrated into your ERP so that you could surprise your clients and sale anywhere.
Know more about this catalog online
Clients
With STEL Order CRM you will have all the information of your clients and potentials wherever you are.
Know more about this CRM online and mobile
Sales
The ERP where you can create estimates, orders, delivery notes, and invoices instantly. Eliminates paper and errors.
Know more about commercial management
ERP
STEL Order is a ERP software in the cloud to manage your company just with a program.
Know more about ERP
Invoicing
Create your invoice in your mobile, tablet or PC. Know when your clients read them and collect faster by card.
Know more about how to do online invoicing
Purchases
Manage your suppliers, purchase orders, purchase receipts, purchase invoices, and other expenses from anywhere.
Know more about how you can optimize your purchases and expenses.
Online Calendar
STEL Order Calendar online it's ideal for planning and improve the communication and activities of your business.
Know more about the calendar online
Reports
Your ERP offers you all the information you need about your business and at the right time and way.
Know more about financial reports and management
Your bookkeeper in your STEL Order
Invite your bookkeeper into your STEL Order, and let access to the necessary information when its needs. Without paper. Without calls.  
Are too many the features of STEL Order that are thought for help you in your day a day of your business management.
Try our invoicing software with all the help and support you need