The CRM that makes your business and your life easier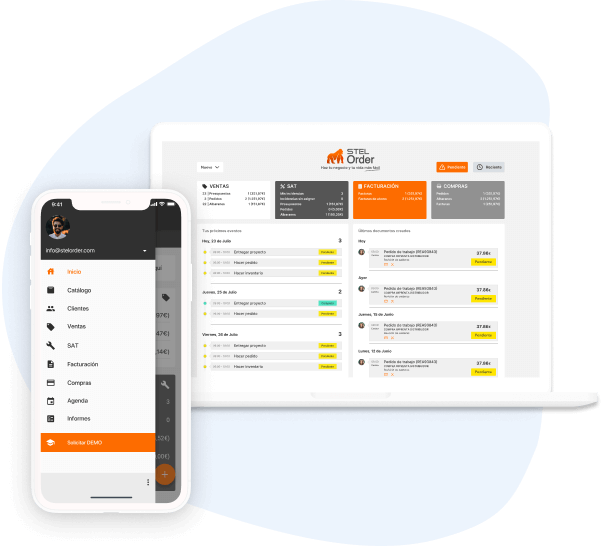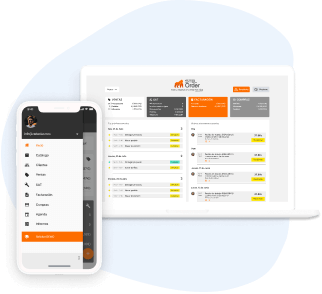 Online and mobile CRM to sell more and manage your customers from start to finish
Easy, fast and 100% portable. Manage your clients from your PC, tablet and mobile phone. Increase your sales by reducing the administrative time of your commercials.
Thanks to STEL Order and its mobile CRM designed for SMEs and freelancers, you can manage your customers from the web or from your mobile app for tablets or smartphones. Consult all the commercial information of your customers at any time and in any place, updated and with a click.
From sending a promotional email to making and collecting a bill. Find out about some of the features of the online and mobile CRM ideal for entrepreneurs, freelancers and companies from all sectors.


Online CRM
Focus on what you really want to know about your customers and improve your services. Always have at your disposal their balance, the status and history of their sales and meeting documents, their contact persons and their location on Google Maps.


Connect
Boost your business with email marketing and send emails to all your customers at once, to boost your company's sales. Generate your own templates and collect feedback from your customers with the Rating Widget to improve your business.


The CRM with the best online agenda. With the STEL Order calendar you will have complete control of all your calendars. You will be able to receive notifications of your tasks, events or meetings, through your email or through your mobile phone with push alerts.


Consult your customer's history to find out about their journey in your business. Within You can access all the purchase information of your clients, how much you have invoiced with them or which product they usually buy more.

Inbox
With Inbox, an incident is automatically generated within your STEL Order, when a customer writes you an email or fills in a form on your website. You also receive an instant notification on your mobile phone with a push notification.


Customer Assets
You can register your teams and associate them with customers. It registers all the services that are carried out on them, such as installations, preventive or corrective maintenance, reviews, breakdowns, incidents and repairs.


Generate personalized invoices with a click, from your mobile, tablet and PC. Send them by email or share them by WhatsApp in seconds. With STEL Order you know if your customer has seen the invoice you sent.


ERP
STEL Order is the integrated management software with which you manage all the processes of your business. The ideal ERP for many businesses, and for yours too. Discover all the functionalities of the best rated ERP.

Projects
Link your customers with your incidents, business documents, events and tasks to the different projects, in the cloud from your PC, mobile and tablet, wherever you are, and in an orderly, fast and secure way. If you don't love managing your business with STEL Order we will give you your money back
Its main benefit you will notice right away: it makes your business and your life easier
Total mobility
Increases the possibility of attracting customers with the STEL Order App. Manage your customer and prospect database wherever you are and don't miss any sales opportunities.
Control of your customers
Register, sort, segment and classify your customers to increase sales opportunities. Analyze their movements and personalize future communications according to their needs.
Security in the Cloud
All your customer information safe, updated and synchronized in the cloud in real time. With the STEL Order App you can access your customers' data from your mobile and offline.
Unpaid management
STEL Order helps you to notify your customers' unpaid bills with a single click and in a massive way. Control your customers' balance at any time from any mobile device or PC.
Customer Loyalty
Collect your customers' feedback with the Rating Widget to improve your business. When you know what your customers think of your services it is easier to choose the best loyalty strategy.
The best support
We provide you with the best experts to help you by phone, email and chat. We've also created a help centre and video tutorials for you to consult whenever you need them.
Simple and efficient management
The STEL Order CRM helps you to successfully complete your business processes from day one, with simple and orderly business management from any mobile device, tablet or PC.
Resource Optimization
Reduce costs and optimize your business resources. STEL Order is not only a CRM, it also has integrated the best ERP and invoicing program, so you can manage your whole company with the same software.
The ideal management software for many businesses and for yours too.
I'm sure you know professionals like you who use STEL Order to manage their businesses.
Eight years ago we started to create STEL Order thinking that it would be an ideal management tool for most sectors. We are continuously evolving, including functionalities and improvements that thousands of professionals like you transfer to us every day.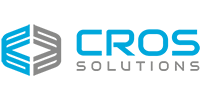 Computer maintenance and supply to companies.
Paperless and within reach of our mobile device, fast and secure.
The client sees that you are in a 100% technological world and you move with him as we do not use paper for any documents, delivery notes, budgets, invoices, etc.
The area in which there has been the greatest increase in productivity has been in the area of group work in general. The management of the work of the technicians in the street and the invoicing in the office has been greatly streamlined. This is the best CRM I have ever used. It's always with me.
The help and support team is one of the best things they have, attentive, responsive and very fast.
It was one of the first expenses we made in the company and we couldn't be happier, it is super useful and every day we are surprised how versatile the application is. Compared to the management application I used 8 years ago, this one gives you a thousand turns without a doubt.
The best thing about it is that you can see the team behind it.
Cros Solutions
www.crossolutions.com

Computer service and maintenance company.
It helps us a lot to manage our computer and security cameras company.
It has been very useful for us to be able to manage our company with STEL Order, since mobility is fundamental in our business.
We have increased our customer relationships by having all the communications in one program and accessible to the whole company. Each department can access only the information they need, thanks to the customization of STEL Order user roles.
The development team keeps the application constantly evolving and we value the support provided.
The improvement of the company's internal productivity, the increase in sales of our salespeople and the connectivity at all times with all customers and potential customers, makes STEL Order one of the best CRMs we have used to date.
The only thing we can add, is that it is totally recommendable.
Ordenatech
www.ordenatech.es

Wholesale ceramic manufacturing and distribution.
Without a doubt, STEL Order has made my business and personal life easier.
We were afraid to change software, but it was very easy to switch from one to another, in a matter of minutes you have all the information in STEL Order.
The invoicing area has increased its productivity. STEL Order tells you which customers owe you an invoice, the orders to be served and, most importantly, in the commercial area, which customers need to spend more time on their purchases.
The technical support is great, you do not feel alone at any time. The help received is instant.
We have improved the way we use customer information to manage accounts, leads and sales opportunities in a single program. CRM helps us communicate payments, orders or offers to our customers.
I would highly recommend it. For our company it is absolutely indispensable.
Delaviesca Lateramen S.L
www.delaviesca.es
No Results Found
The page you requested could not be found. Try refining your search, or use the navigation above to locate the post.
Try the ERP Management Software your company needs for FREE, with all the help you need