Your client information and contact details always within reach
Your clients and potential clients are the heart of STEL Order's online CRM software.
Online CRM: Manage your client lists from your PC or from your smartphone and tablet using our app
What is CRM?
STEL Order also works as an online CRM that is specifically designed for small to medium-sized business owners. It allows you to manage all of the information related to your clients using the web version or the app designed for smartphones and tablets.
You can check your business information anywhere at any time, which is always be accessible and up to date thanks to STEL Order's cloud service.
"I strongly recommend STEL Order to every company and professional that wants to carry their business with them wherever they go."
The best online CRM for small and medium-sized business owners
STEL Order is simple and easy to use, yet powerful when it comes to accessing information about your current and potential clients.
You will no longer need to worry about complex features that you never use. Focus on what really matters: your clients account balance, all of your pending and completed documents with them, sales history, contact details, their location on Google Maps… And much more!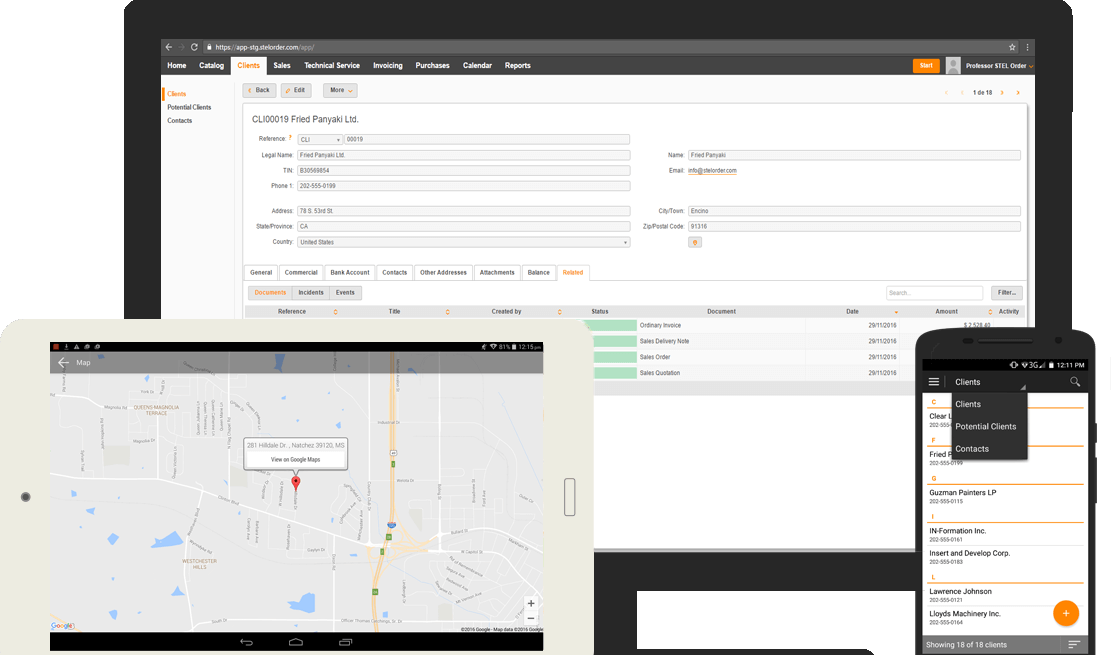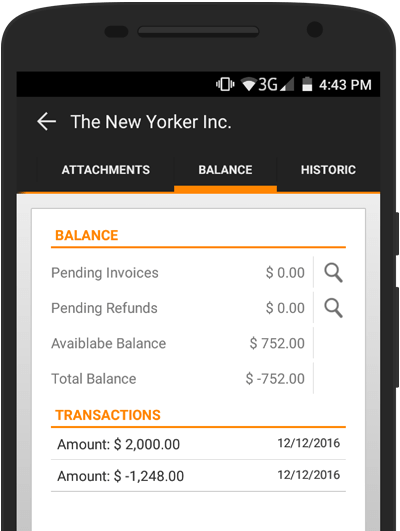 Find out your clients account balance and the current state of your sales operations
Knowing your clients account balance and spending capabilities is fundamental to any business. You can use STEL Order to find out this information and much more using your smartphone or tablet. For example, how much you are owed, when their payments are due, what payment method they use, when the last invoice was sent…
You will also be able to view all of your sales documents in real time: estimates that you sent, orders that need delivering, invoices that need paying, etc. Filter this information by date or client to improve your navigational experience.
Plan visits and meetings with your clients using the online calendar
STEL Order comes with an integrated smart calendar that allows you to configure and share as many events and tasks as you want to with the rest of your company.
You can create events using your online calendar and also configure separate calendars for your technicians and sales teams. You will also be able to send notifications via email or the smartphone app, so neither you or your employees forget a meeting or a deadline ever again.
Of course, you can also find out your event history with your clients and attach documents and tasks to every calendar event in relation to them.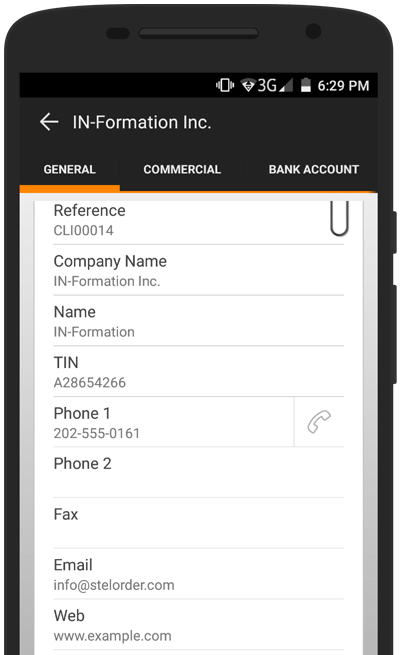 All of your clients contact details always within reach
STEL Order allows you to configure multiple addresses: billing addresses, delivery addresses, support centers… You can view these locations on Google Maps using your smartphone to ensure you never have to waste time looking up directions or routes.
You can also call your clients straight from STEL Order and synchronize your contacts with your phone book, so you can find out when your clients call you on your smartphone.
Add as many points of contact to your clients as you need, including all of their information: position, contact number, email address, etc…
Some of the functionalities of the ERP online and mobile that revolutionizes the management of your business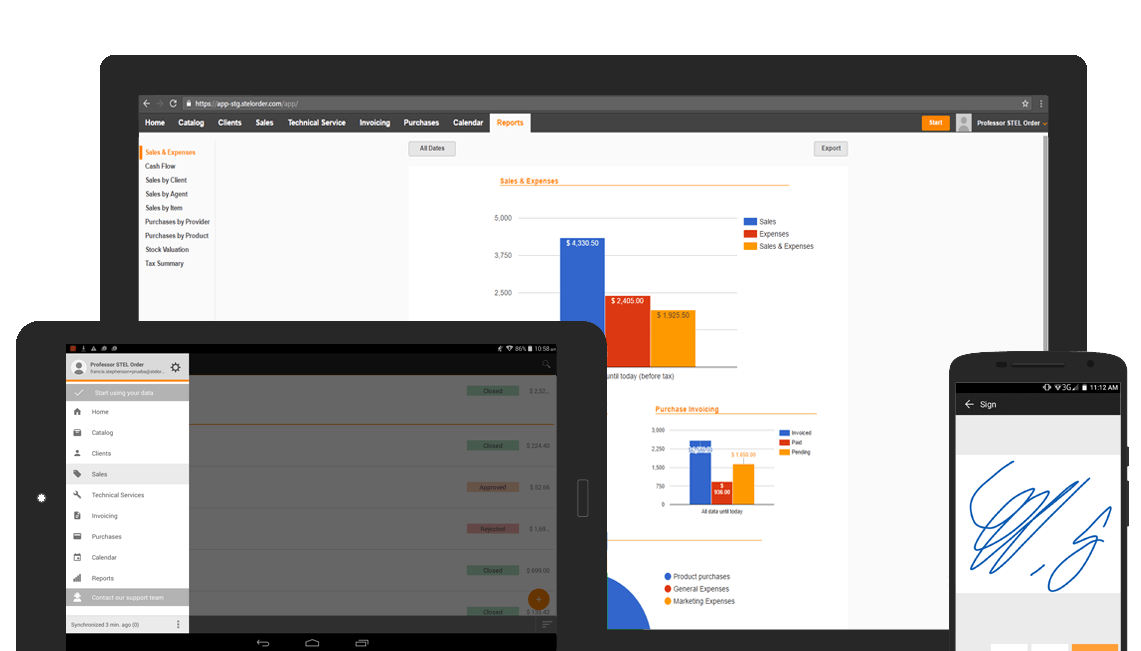 ERP
STEL Order is a ERP software in the cloud to manage your company just with a program.
Know more about this ERP
Online Catalog
An online and mobile catalog integrated into your ERP so that you could surprise your clients and sale anywhere.
Know more about this catalog online
Sales
The ERP where you can create estimates, orders, delivery notes, and invoices instantly. Eliminates paper and errors.
Know more about commercial management
Invoicing
Create your invoice in your mobile, tablet or PC. Know when your clients read them and collect faster by card.
Know more about how to do online invoicing
Purchases
Manage your suppliers, purchase orders, purchase receipts, purchase invoices, and other expenses from anywhere.
Know more about how you can optimize your purchases and expenses.
Online Calendar
STEL Order Calendar online it's ideal for planning and improve the communication and activities of your business.
Know more about the calendar online
Reports
Your ERP offers you all the information you need about your business and at the right time and way.
Know more about financial reports and management
Your bookkeeper in your STEL Order
Invite your bookkeeper into your STEL Order, and let access to the necessary information when its needs. Without paper. Without calls.  
Are too many the features of STEL Order that are thought for help you in your day a day of your business management.
Try our invoicing software with all the help and support you need