Sales Management Software
Manage your sales and distribution operations

Optimize your sales force by improving your commercial management by creating all commercial documents wherever you are.
The online and mobile management software that helps you sell more and sell better

Sell anywhere
You can use STEL Order to carry your business with you on your phone and tablet, so you can keep selling your products  and services wherever you go.

Increase your sales
An organized and powerful way of selling more that helps improve your professional image. Discover a new way to work with technology.

Show your catalog on any device
You can use any device to showcase your products, with images and technical information, while managing your stock, discounts and prices.
Sign your orders
Take note of new orders while browsing through your catalog, and collect a clients signatures as soon as they order from your business.

Organize your sales force
All of your team will work within a connected environment in perfect harmony, with individual roles and privileges that you control.

Carry your clients with you
You will be able to contact your clients directly with any device to create estimates, sales orders, invoices, delivery notes and any other document.
Connect your warehouse and sales teams
Stock management, margins, reports and invoices. Every part of your business will be synchronized!

Create and send invoices instantly
Creating personalized invoices using your smartphone and sending them over to your clients has never been this easy. Start invoicing!
Your sales agents always connected to your offices and warehouses
Take advantage of the STEL Order app and improve your sales and distribution operations. STEL Order is an ideal solution for sales agents and distribution companies, because it allows them to show and sell their products efficiently wherever they are.
Showcase your products using your phone or tablet
You can create an online catalog where you can add every product and service that your company offers. You can then access your catalog on any device to show your clients what you sell and to take new orders from them on the spot.
Consult and update prices, stock amounts, discounts, sales histories, supplier details and more. You can also attach documents to each product, such as contracts, images, instructions and other useful information.
Find out more about our online catalog feature.
Your clients and prospects are always available with our online and mobile CRM solution
STEL Order enables you to carry around all of the information you need regarding your clients: where they are based, contact details, how much they owe you, what orders you need to deliver, when and how much they spend… You can view this information and even include tasks in your online calendar.
Assign your clients to a specific agent or make them visible to everyone. Add attachments such as contracts, SEPA payments and other documents to your list of clients to keep them accessible at all times.
Find out more about our online and mobile CRM feature.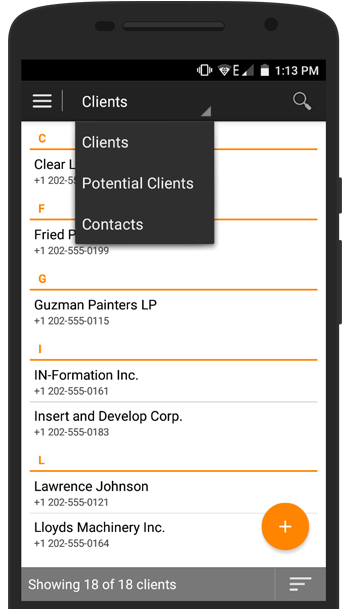 Create estimates, orders, delivery notes and invoices with client signatures
STEL Order allows you to create every possible document that is required in a sales operation. Create estimates, orders, delivery notes and invoices in real time. You can generate a delivery note or an invoice as result of a previous document with just one click, and you can even create an invoice for multiple deliveries in just a few moments.
Your clients will be able to view and sign any documents you create on your screen. Once signed, you can send it anywhere you want in an email (which completely removes the need for paper documents). Your main office can view, through STEL Order, your created documents and confirm any of your operations from there.
Surprise your clients and improve your productivity with STEL Order.
Organize and manage your sales team with STEL Order's smart calendar
STEL Order comes with a smart online calendar to create and plan events which can be shared with other users. Create specific types of calendars and share them with your sales team. When one of them creates an event for a visit, they will automatically receive a notification on their phone when the time of the appointment is approaching. You can also add an event whenever a new document is created (estimate, order, invoice, etc).
Attach images and other documents to your calendar and use tasks as a means to communicate between your office and sales force. You will no doubt save time, minimize mistakes and improve communication using STEL Order's online calendar.
Find out more about our online calendar feature.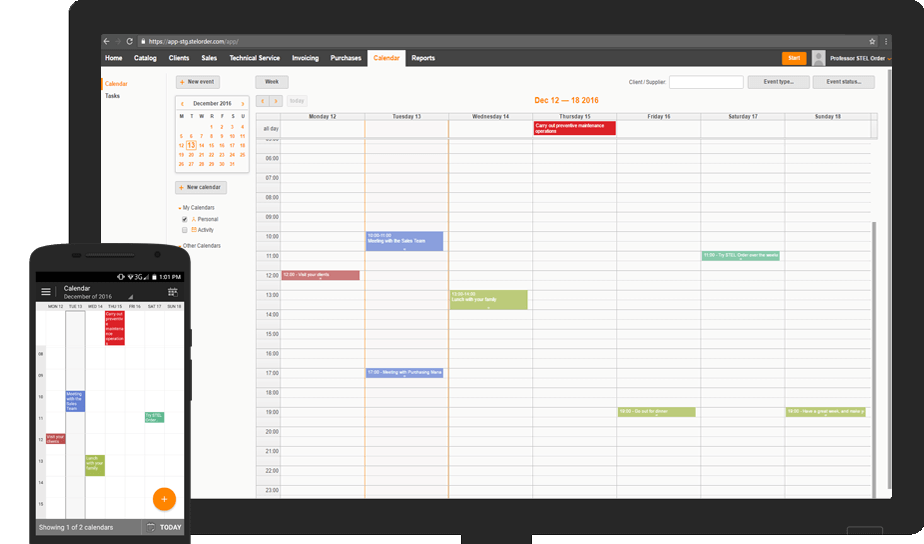 Collect your clients signature using your smartphone or tablet
You and your sales team can create estimates, orders, delivery notes and invoices right in front of your clients. Collect their signatures on the spot using your smartphone or tablet and surprise them with your use of technology.
Once the document has been signed, you can forward it to your clients or colleagues with just one click and eliminate the need to print copies for everyone. Your main office will also have a copy of the created document on their computer in real time, with no mistakes.
Information of interest at the right time and in the right format
Knowing the financial results of your business during a certain time period, your clients current account balance or the estimates that you sent last week which need approving are all important pieces of information that need following up.
STEL Order provides all of this information and much more in a detailed yet simple layout whenever you need it, on any device.
Find out more about our management reports feature.
Some of the functionalities of the ERP online and mobile that revolutionizes the management of your business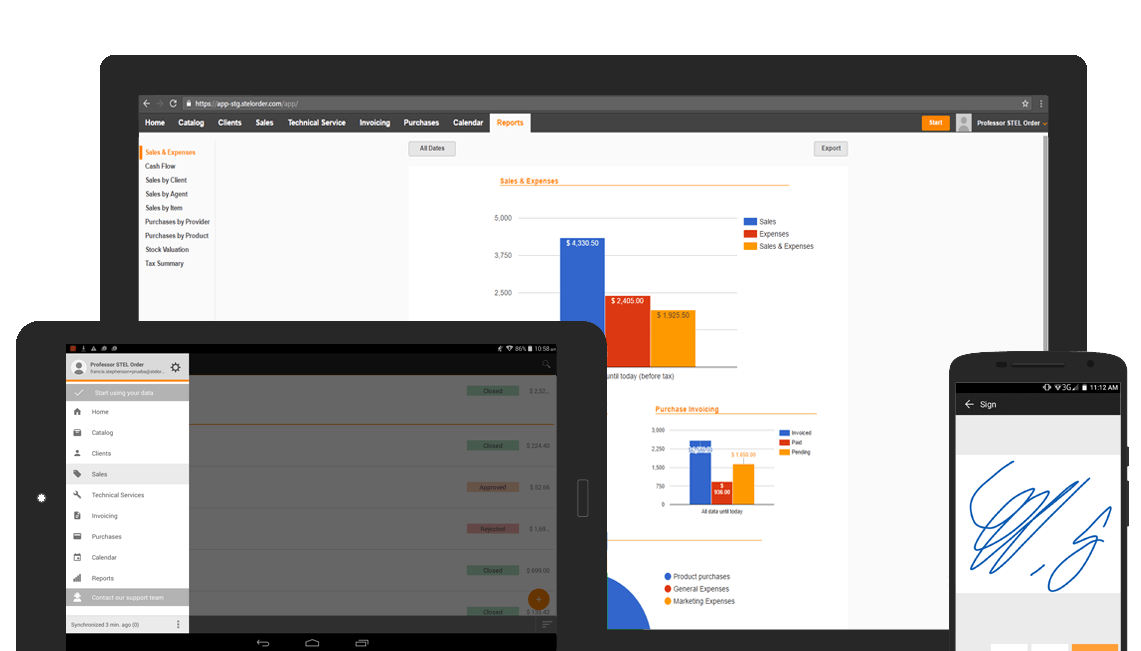 Try our invoicing software with all the help and support you need