Manage your SME from the cloud
Connect all departments of your SME in real time.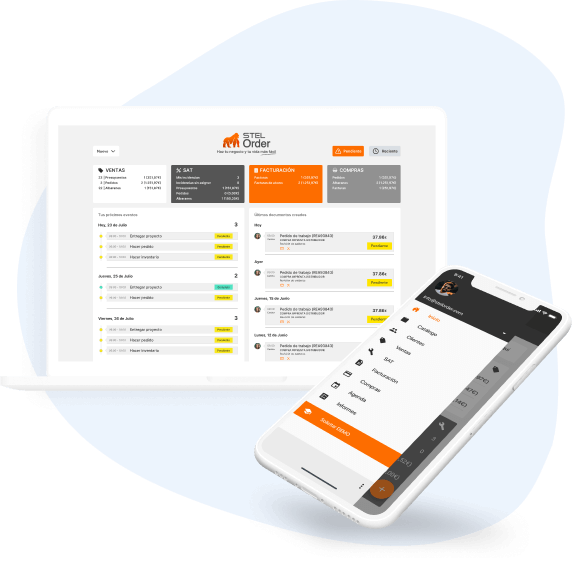 If you don't love managing your business with STEL Order we will give you your money back
The best rated ERP for SMEs
An ERP software for SMEs is a solution developed to meet the needs of the small business with which it is able to solve apart from the day-to-day problems and routine tasks in a very short time. 
It supports the manager to be able to plan his working day and that of his employees while having in the palm of his hand all the information about his finances, invoices, payroll and inventory. The ERP software for SMEs allows you to quickly solve operational tasks of your work and through a reporting system to have a global vision of your company in real time. By delegating this part of your work to the ERP, you could dedicate yourself to finding new ways to expand your business.
With these needs in mind, in STEL Order we have created a software for small business that is able to meet all the needs of your business and meet all the requirements of them. That's right, companies that have relied on STEL Order have seen their costs reduced as they have been able to locate dispensables more quickly while solving repetitive day-to-day tasks more efficiently.
What can SMB software do for your business?
Increase the global vision of your business with ERP software for SMBs
For this, you will have to know the daily use that all your operators will make of it, from administration to operators and the processes in which they will use it. This way you will have an idea of the cost and you will know which type of ERP in the cloud for SMEs is the one that best suits your company.
Cost reduction
ERP software for SMEs is much cheaper to implement for small businesses in Spain. Because you save having to pay a large amount for the purchase of an initial license, this way you only pay for each month of use and user, being the most optimal way for a company.
Working without internet connection
In addition, STEL Order puts in your hand the management of your company from anywhere in the world even if you do not have internet access, you can make the necessary changes while offline and we will synchronize the data once you have Internet access.
Intuitive and simple
Clear interface so that you have all the options at hand and it is easy to do all the daily management. In addition with personalized support from our advisors in case you have any questions.
Improving business decisions
Thanks to this program for SMEs you will have the necessary information to see the whole of your company in a global way and you will make the best decisions to face the problems that will appear.  Being this the main problem of the great majority of small companies in Spain, you already have a competitive advantage over the rest of SMEs.
Enterprise scalability
Many companies, faced with the great loss of sensitive data that free management programs represent, have preferred to adopt an ERP for SMEs that allows them not to have scalability problems in the future and have all the information very well protected in the cloud.
Total mobility
Manage your company from anywhere in the world whether you have internet or not, we will synchronize your data with the cloud as soon as you can connect so you can update the status of your company from the farthest corner of the planet.
Business efficiency
Because it streamlines the activities of your SME, whether they are routine tasks such as recurring billing or stock management. With everything under control you will have more information to make the best decisions.
Try the ERP Management Software your company needs for FREE, with all the help you need