Manage your catalog of products and services with the STEL Order app, from your mobile or tablet.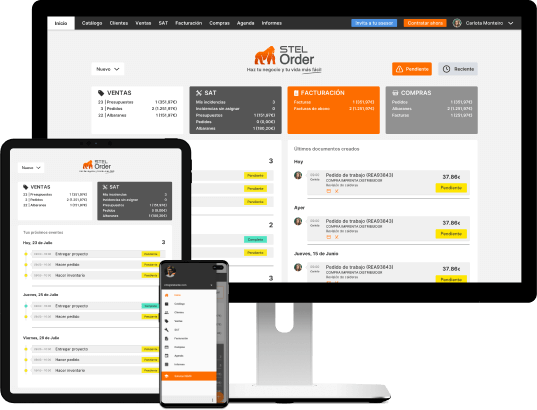 Retail management software
Connects the office with technicians
Eliminates paper and errors
Saves a lot of management time
Improve your customer service
Make your business and your life easier
What can you manage with the STEL Order retail management software?
In STEL Order we have developed an ERP for retail and meet the needs of retail companies, allowing them to obtain an optimization of their processes and manage different areas of the same how is the stock control in store, billing and POS among others.
In order to be competitive in the retail business, companies cannot afford to waste time on problems that can be easily managed from a Retail ERP. Therefore, choosing the ERP that makes it easier to manage these areas will allow the company to focus on sales.
This is why at STEL Order we have developed the Retail ERP software in which companies will be able to have their POS connected, create a sales ticket from the mobile or tablet, control the stock and reports on the finances.
Commercial and technical management of installations and projects
Manage your commercial opportunities and make winning quotes for your projects and installations. Have your technicians fill out work reports with their cell phones, allocating time and costs to your projects. Have them take photos and record audio.
In the office and on your cell phone you can easily and quickly keep track of your projects.
Incident and corrective maintenance management
From the moment a customer calls you or sends an email notifying you of an incident until the technician makes an invoice and charges it by credit card.
Manage incidents or notifications, estimates, orders, delivery notes or work reports and invoices according to your business processes. Paperless, error-free and instant.
Preventive maintenance and contract management
Define an automatic task and add new customers who subscribe to your services. Their invoices will be automatically created and sent by email when applicable and with the corresponding amount.
Do the same with work orders to fill your mobile maintenance checklists.
All-in-one retail management software
STEL Order is a comprehensive online and mobile management tool ideal for your industry with which you can manage all the processes of your company and with which you and your team will love to work.
CRM
Take with you all the information you need about your customers and prospects with STEL Order's online and mobile CRM: addresses, document management, assets or teams, history, events, tasks and much more.
Create invoices with your mobile, send them by email and know when your customers read them. Make recurring invoicing, payment by card or SEPA remittances. Notify your customers with a click.
Catalogue
Un catálogo online y móvil con tu equipos y recambios siempre actualizado con la información que necesitas sobre tus productos y servicios. Descripciones, fotos, precios, documentos adjuntos, histórico y control de stock.
Field Service
Manage your installations, maintenance and repairs wherever you are: incidents or warnings, assets, delivery notes, work reports, checklists or invoices signed with your cell phone.
Expenses
Optimize your purchases and other expenses with STEL Order. Manage your suppliers, orders, delivery notes, purchase invoices and other expenses wherever you are. Stock control is automatic.
Manage your business with STEL's POS software
Simple cash register and warehouse control.
Keep your catalog of products and services always updated with prices, rates, stock, photos and documents.
All the information about your customers wherever you are.
Make delivery notes or work reports and collect the customer's signature.
Make invoices, send them by mail or whatsapp and charge by card.
Manage your incidents or alerts instantly.
Take photographs and record audios to document your interventions.
Manage your agenda to plan your and your team's day-to-day activities.
Your business at a glance with real-time reporting.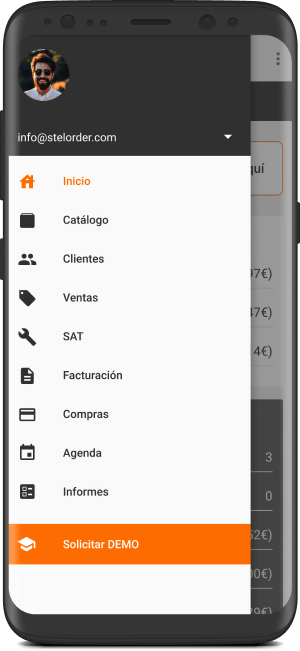 Proof of reading
Know instantly when your customers see your quotes or invoices.
Assets in client
Manage the equipment you maintain with serial numbers, photos and documents
Connect
Notify your customers of the status of their incidents and send personalized emails.
Geolocation
Geolocate your customers on the map and assign incidents to the nearest technician.
Inbox
Turn emails into advocacy and opportunities.
Automatic tasks
Automate your recurring billing and preventive maintenance.
Your customers rating
Include the rating widget in your emails to collect the rating of your interventions.
Your accountant at your STEL Order
Invite your consultant to your STEL Order to access the information they need when they need it.
Try the ERP Management Software your company needs for FREE, with all the help you need