ERP Software for e-Commerce
The best rated software for managing your e-Commerce
Connect STEL Order ERP with your e-Commerce and you will be able to synchronise the stock of your product catalogue, customers and invoices. In addition, all orders placed in your online shop will be updated in STEL and you will also be able to create special prices for certain customers or work with dropshipping suppliers.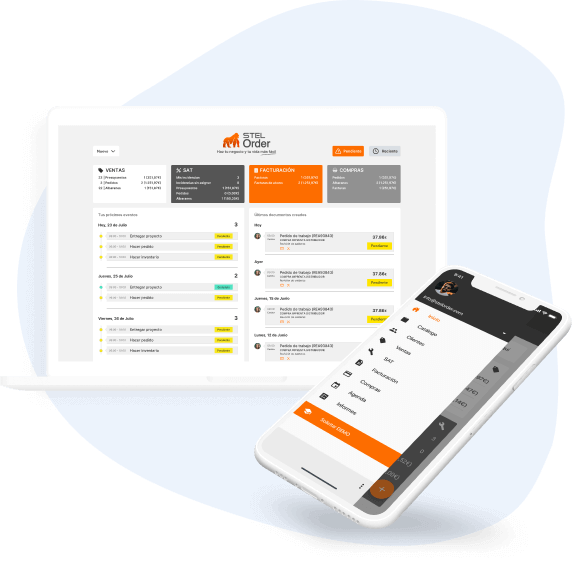 Wonderful
Works great for everything. It's stable, options and management for whatever you want. Highly recommended…
David – April 26th, 2021

Excellent service
An excellent application for managing your business. The team is very kind to solve questions
Carlos – June 18th, 2021

Very happy
The best ERP software we have ever known. More than excellent value for money, a technical support of 10…
Carmen – May 7th, 2021

Competitive price
I have been looking for more than 20 years for an app that gives me what STEL Order gives me, I have tried many and none…
Joaquin – May 23rd, 2021

The best ERP on the industry
The best way to manage my company, from the commercial area, through the technical service, invoicing…
Adrian – April 21st, 2021

Accessible via web and app
I have been using STEL Order for almost 3 years and it is a very recommendable option for most sectors…
Daniel – September 17th, 2019

100% recommend
The program is great, both the PC and mobile applications. We have been very happy since we started using it….
May 3rd, 2020
Assistance during your contract
We show and teach how to use STEL Order at all levels of your company:
Managers
Administrative
Technicians and other employees
Also, invite your advisor.
Support included for all your equipment
before and after hiring.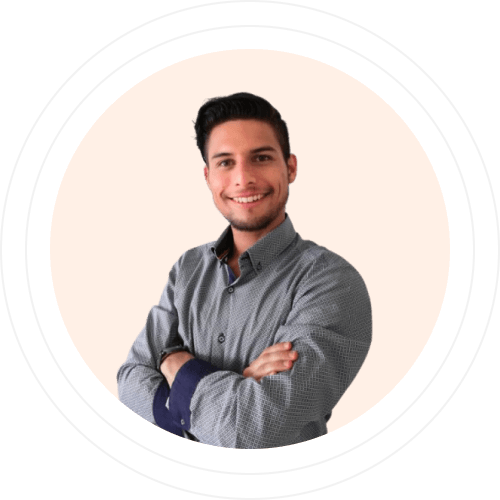 Simplify your company's management with STEL Order
If you don't love managing your business with STEL Order we will give you your money back
Top-rated ERP software
for e-Commerce
Thanks to the intelligent connection between both platforms, one where you make sales and the other where you manage them, your company is able to keep prices updated in real time by displaying the prices that are reflected in your ERP, i.e. you don't need to make the changes several times to keep the prices up to date.
Not only will you be able to update prices thanks to STEL Order ERP for ecommerce, but you will also be able to update the stock of products, avoiding future misunderstandings with customers if they make purchases of a product that was not updated on your website.
In addition, one of the biggest advantages of establishing the ERP-Ecommerce relationship is that customers who have a discount will already have it activated when they buy online without having to call your technicians or warehouse to make the established discount.
If you need a customised solution, you have at your disposal our public API to develop what you need and integrate it with third-party tools.
What can the
ERP-Ecommerce

connection do for your business?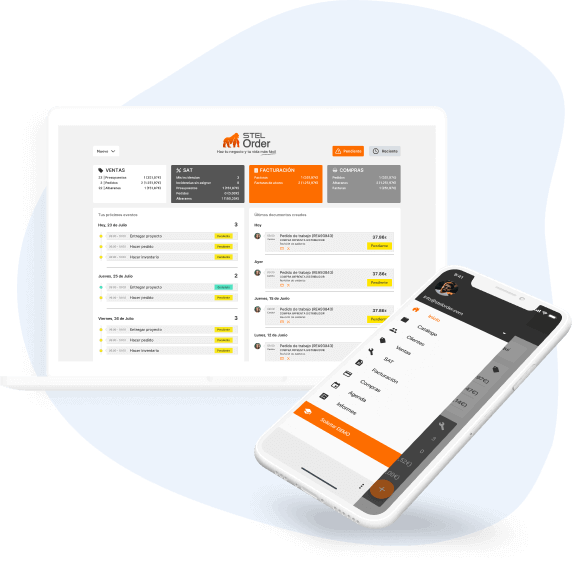 Synchronise your online shop with Prestashop thanks to
STEL2Presta
You won't have to do things twice, thanks to PrestaShop'ssmart connection to STEL Order via STEL2Presta you can synchronise your product stock and prices from one place.
You will also be able to manage from your ERP the sales orders placed in the online shop, including payment methods, carriers, shipping addresses. In other words, everything you need to know to provide a good service in your online shop.
In addition, customers and invoices will also be synchronised in your STEL Order. This allows you to use special rates and allocate discounts to customers that they will get whether they buy from you online or offline.
De su web a
STEL Order
Configure the contact form on your website to receive a quote or a ticket each time your customers fill it out, even with the attached documents that they send you.
Unify all the sales resources of your company, saving time and improving the quality of customer service for your business.
Shorten the deadlines for resolving tickets, generate from your mobile, wherever you are, quotes or invoices from tickets received from your website and increase sales opportunities.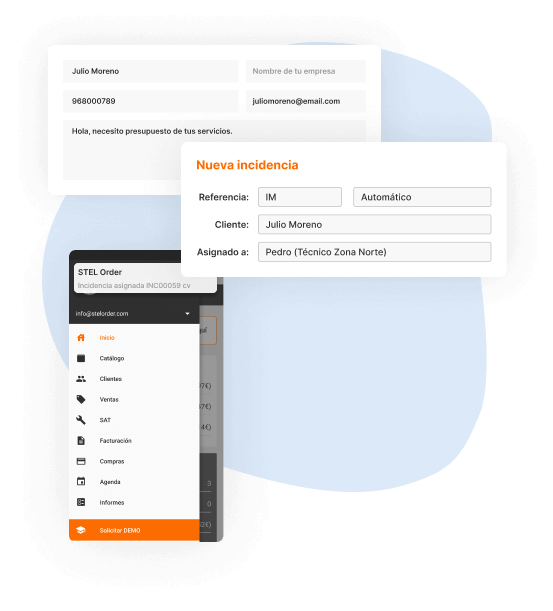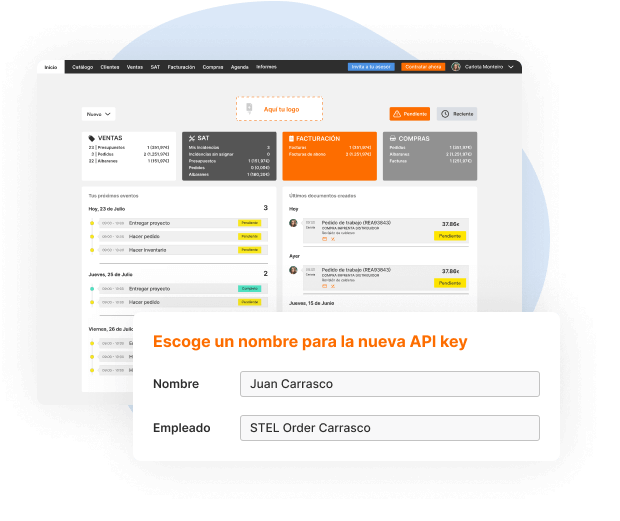 Full integration with our
public API
With the STEL Order API you can read, create, edit and delete information from your STEL Order to create a solution that is unique to you.
We have developed the STEL Order public API, so that developers around the world can integrate STEL Order with platforms such as Ecommerce with other ERPs or CRMs, with email marketing applications, with Business Intelligence platforms, with human resources applications, with Marketing Automation applications. with customised applications and much more.
Comprehensive management of all processes with a
smart ERP for SMEs
Achieve visibility, control and more efficient results, with more organised processes using STEL Order's end-to-end management automation tools.
Improve your company's customer service and external communication. Plan your user-oriented commercial actions. This will make your business more secure, organised and reliable.
Invoice with full mobility and access from any device, even without an internet connection.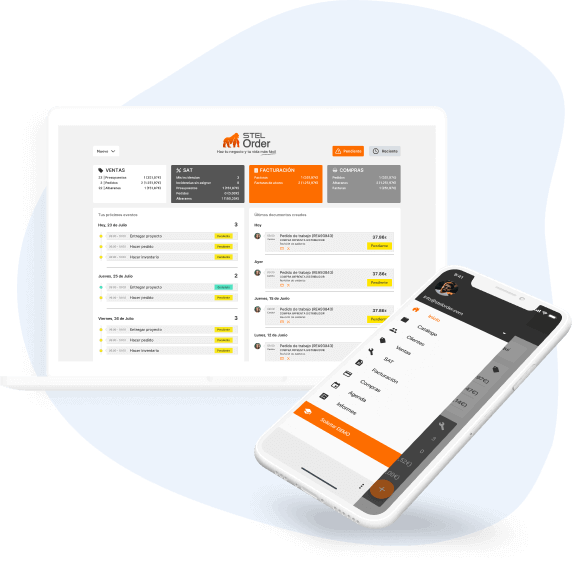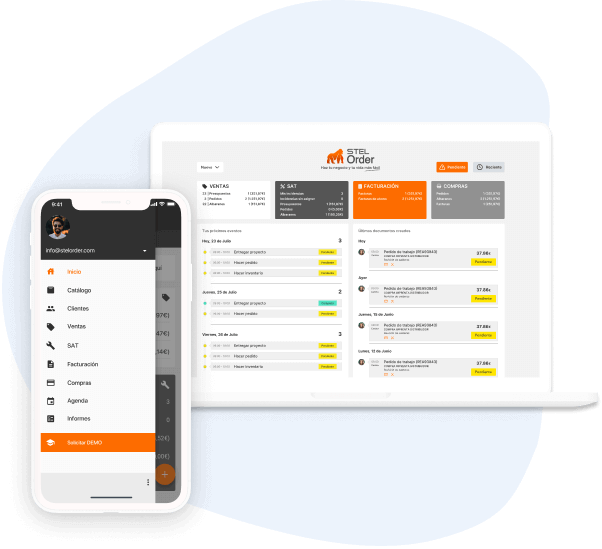 Attract, retain and strengthen your
business relationships
Customer loyalty is a key element for the growth of your business, because it costs more money and resources to acquire new customers than to keep the ones you already have.
Introduce concepts such as email marketing, rating reviews and acknowledgements into your business strategies.
Make progress in communicating with consumers using theSTEL Order CRM.
Effectively control your
invoicing
Streamline invoice issuance with STEL Order recurring billing, automatethe creation of billing documents and send thousands of invoices with one click.
Reduce the time spent managing your invoice collections and reduce the number of uncollected bills with STEL Order's online payment by credit card or Paypal.