Every single feature in STEL Order is designed to make your business and life easier
Personalize your invoices or comercial documents, include your logo and brand colors on any of your documents.
Discover other useful features and customization options
Configure user roles
You can grant your employees access to STEL Order. This will also allow you to select which sections they can view and what operations they can carry out. For example, you can make it so that your technical team can't view the purchasing price and margin values for your products.
Customize your invoices
STEL Order allows you to personalize your invoices, estimates and other documents. Include your logo, brand colors, watermark and what information you want displayed on any of your documents. You can also save templates for every language and occasion, as many as you need.
Personalize your communication
You can configure the messages you send when emailing invoices, estimates and other documents over to your clients. You can also attach additional documents, such as contracts, terms and conditions, promotions, instructions, etc…
Receive read receipts
Thanks to our read receipt system, you'll know instantly when your clients read your invoices and other documents you send over to them. This is exceptionally useful, as it allows you to do a follow up call after a potential client has read your offer, for example.
GPS Locator
Another optional feature you can activate on STEL Order is your GPS Locator. Find out where your employees are in real time, or where they are when they create a sppecific document. If you want to know more about this feature, get in touch with us.
Import, export and update
You can import your existing data into STEL Order with just a few simple steps or export all of your client, product and supplier information into an Excel document, as well as being able to update large amounts of data on STEL Order in one go by uploading a new Excel or .csv file.
Some of the functionalities of the ERP online and mobile that revolutionizes the management of your business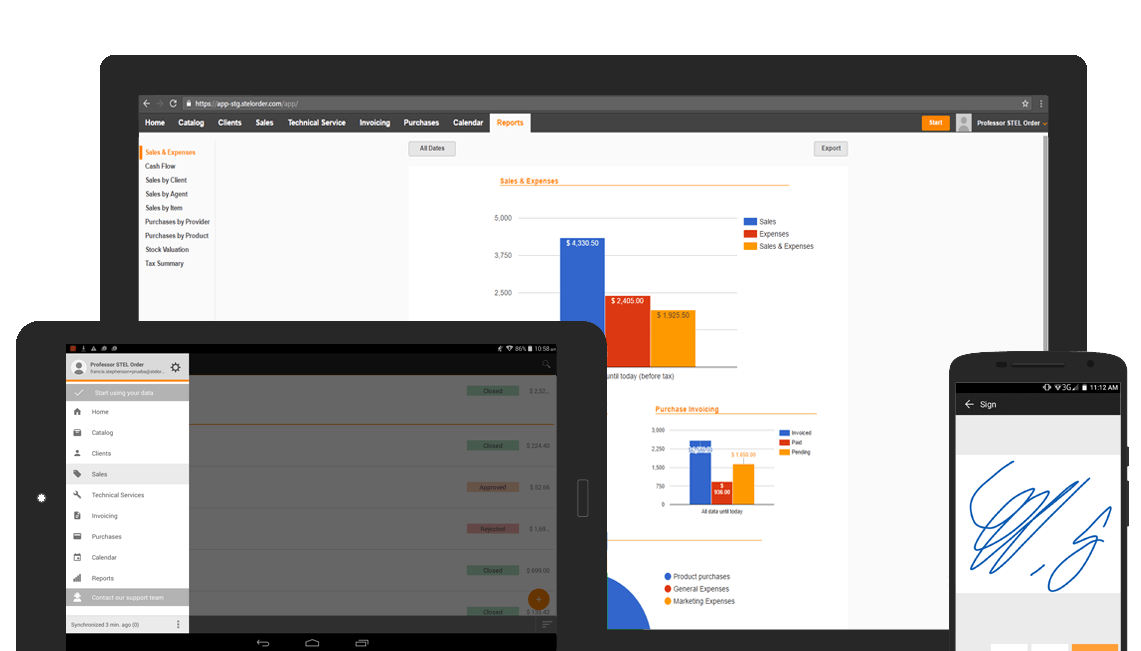 Online Catalog
An online and mobile catalog integrated into your ERP so that you could surprise your clients and sale anywhere.
Know more about this catalog online
Clients
With STEL Order CRM you will have all the information of your clients and potentials wherever you are.
Know more about this CRM online and mobile
Sales
The ERP where you can create estimates, orders, delivery notes, and invoices instantly. Eliminates paper and errors.
Know more about commercial management
Invoicing
Create your invoice in your mobile, tablet or PC. Know when your clients read them and collect faster by card.
Know more about how to do online invoicing
Purchases
Manage your suppliers, purchase orders, purchase receipts, purchase invoices, and other expenses from anywhere.
Know more about how you can optimize your purchases and expenses.
Online Calendar
STEL Order Calendar online it's ideal for planning and improve the communication and activities of your business.
Know more about the calendar online
Reports
Your ERP offers you all the information you need about your business and at the right time and way.
Know more about financial reports and management
Your bookkeeper in your STEL Order
Invite your bookkeeper into your STEL Order, and let access to the necessary information when its needs. Without paper. Without calls.  
Are too many the features of STEL Order that are thought for help you in your day a day of your business management.
Try our invoicing software with all the help and support you need