Developed to work from any Apple device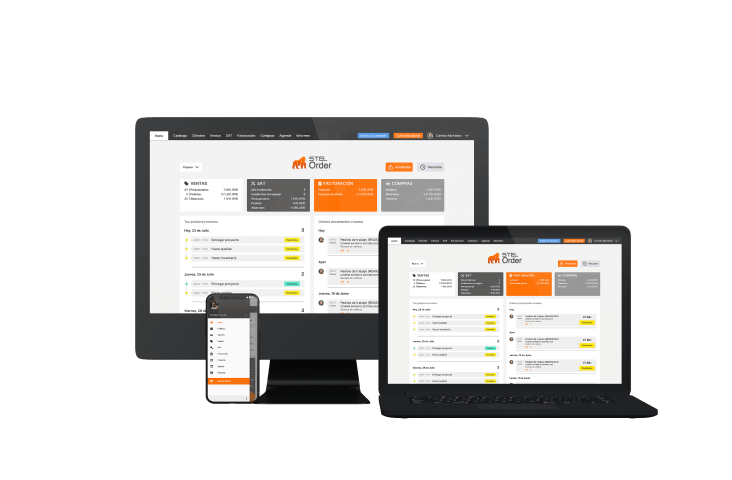 What can you do with ERP for Mac?

Your catalogue is always up to date with an online ERP. Have all the information you need about your products and services: prices, descriptions, margins, discounts, images and attachments, wherever you are. Control your stock and know all the history of sales and purchases of your products in your online ERP.

You have the information of your customers and potential customers always with you, thanks to STEL Order's online ERP: where they are, contact persons, addresses, how much money they owe you, what, how much and when they buy, document management, tasks, pending events and incidents and much more.

Sell anywhere with an Online ERP. With STEL Order you can create all the commercial documents involved in your distribution and business management processes. Make quotes, orders, delivery notes and invoices with your mobile.

Manage incidents or warnings of your preventive or corrective maintenance. Generate delivery notes, work reports or checklists signed with your mobile phone. You can also manage preventive maintenance using the agenda to plan your revisions.

With STEL Order you can create invoices with your mobile, tablet or PC and send them by email quickly and easily. Personalise your invoices and know instantly when your customers receive your invoices, quotes and other documents.

Optimise your expenses and purchases with STEL Order. You can manage suppliers, orders, delivery notes, purchase invoices and tickets and other expenses from anywhere and with any device. Control stock automatically as you buy and sell. If you don't love managing your business with STEL Order we will give you your money back
Steps to implement a successful Mac ERP
What does your company need?
You need to consider the size of your company and the users who will be using the Mac software. The vast majority of management programs (ERP) can be adapted to any type of company, regardless of its size or the industry to which it belongs.
STEL Order has developed its software making it scalable to any size of company and adaptable to all sectors.
Also, the opinion of all the members who will use your ERP on Mac is necessary. A management software is developed to improve management between departments and to have a better global vision, which is why everyone's opinion is essential.
Do you need to integrate with other programmes?
Perhaps you have relied on other solutions for other business problems, such as managing your ecommerce, STEL Order has integrations available.
What is your budget?
To boost the innovation of your company has a cost, but there is always a difference between ERP that requires a license to use it, or on the contrary, if you prefer a pay-per-use plan, like the one STEL Order has, you will grow your business by adjusting your investment in the management of the company.
At STEL Order we have developed ERP software for the Mac, supporting thousands of companies that were crippled in their ERP systems because they had different devices with other operating systems, not compatible with Apple computers.
As part of the arduous task of implementing ERP software, we have made it easy for all companies to do this thanks to our cloud-based ERP for Mac. So you can manage your business from a Mac, iOS, or iPad.
So STEL Order has included in its Mac ERP software a program to manage your business resources, providing extra value to your business managers.
STEL Order on the Mac automates your business processes, generating reports on performance and expenses, allowing decision makers to have all the information in the shortest time possible, since it includes all the departments of your company, and can speed up and improve efficiency in the always crucial decision making process.
Stel Order ERP for Mac ratings by Apple users
Try the ERP Management Software your company needs for FREE, with all the help you need