Your company on your mobile
Manage your business from anywhere even if you don't have coverage, wherever you are and on any mobile device.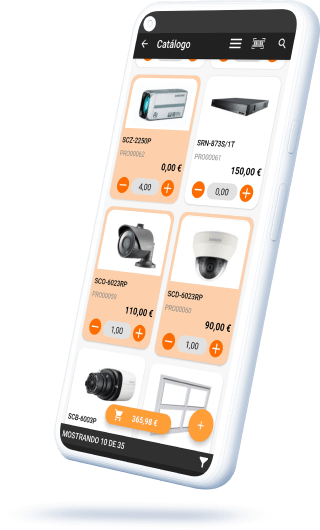 Discover STEL Order Cloud ERP
STEL Order's cloud-based ERP software allows you to carry out all your business processes whether you are in the office or on the move, giving you instant access to all important data from a computer or mobile phone.
Not only can you view your data, but you can also make any changes you need without being connected to the internet. Our application will synchronise your data in the cloud once you're connected again, so thanks to STEL Order Cloud ERP you can be in full control of your business wherever you are. If you don't love managing your business with STEL Order we will give you your money back
It consists of including all the features of a cloud ERP software, that is, allowing users to access and modify data as long as they have access to the Internet. This way, for example, we could modify the status of a payment or create a new invoice from the application in the mobile. So we could say that a cloud ERP is the solution to have control of your company anywhere.
What can you do with online ERP?

Work with an online and mobile catalogue always updated with the information you need about your products and services: prices, descriptions, margins, discounts, images and attachments. In addition, you can control your stock and know all the history of sales and purchases of your products in your online ERP.

Take with you all the information you need about your customers and prospects thanks to STEL Order's online and mobile CRM: where they are, contact persons, addresses, how much money they owe you, what, how much and when they buy, document management, tasks, events and pending incidents and much more.

The online and mobile business management software that allows you to sell anywhere. With STEL Order you can create all the documents involved in your commercial or distribution company. Make quotes, orders, delivery notes and invoices with your mobile phone.

Manage incidents or warnings, make delivery notes, work reports or checklists signed with the mobile phone. You can also manage preventive maintenance using the agenda to plan your reviews.

With STEL Order you can create invoices with your mobile, tablet or PC and send them by email quickly and easily. Personalize your invoices and know instantly when your clients receive your invoices, quotes and other documents.

With STEL Order you can create invoices with your mobile, tablet or PC and send them by email quickly and easily. Personalize your invoices and know instantly when your clients receive your invoices, quotes and other documents.
¿Cloud ERP or ERP on-premise?
Choose the way you run your business
In order to choose with the right criteria which option is the most recommended for our company, we will have to take into account the size and age of the company.
For small and medium-sized companies, no older than 10 or 15 years and without already defined internal processes, it is very feasible to adapt quickly to an ERP in the cloud. Moreover, taking into account that this type of company will not have the necessary resources to hire a customised development, servers or a person in charge of 100% of the correct functioning of the software. We can affirm that an ERP in the cloud is the best option for this type of company.
For companies that are mature in their sector or of a larger size, they need to adapt the programme to their way of working, given that to do otherwise would be much more costly for them. In addition, these companies can afford the development costs involved in implementing an ERP on-premise.
Cost reduction
It is not necessary for the company to make an expense in the acquisition of new equipment, either computers or servers to host your data or in the maintenance of them since it does not require the existence of a full-time IT person because the data is hosted in the cloud. In addition, a cost per use and per month is enabled, so you forget about having to make a large expenditure on licenses before you can start working.
Scalable
As long as you need more resources or users for your cloud ERP, you can expand by calling a consultant assuming a low price. Also, when you decide to expand you won't lose any work hours, since it will be instantaneous.
Real-time access
STEL's cloud-based ERP software allows you to keep your inventory data, invoices, and even reports up to date, so you'll be able to take action quickly and inevitably improve your business management.
Increased Security
With our cloud-based ERP you can rest assured that all your data is backed up and with recovery plans in place should the need arise. We also prevent attacks on your company's local server due to a security breach in the infrastructure or human errors that compromise this important data.
Continual improvement
Unlike other subscription services, software vendors are forced to continually evolve and improve. We continually evolve STEL Order cloud ERP to introduce innovations and new features that make your business and your life easier, increase sales and improve the service you provide to your customers.
Higher efficiency
By inevitably reducing costs compared to a traditional ERP, cloud ERP allows you to invest in improving other areas of your business. Plus, by adding the ease of management that STEL Order's cloud ERP puts in your hands, you'll know at a glance where your strengths lie and where your company should improve.
Try the ERP Management Software your company needs for FREE, with all the help you need