Conecta todos los departamentos de tu empresa en tiempo real.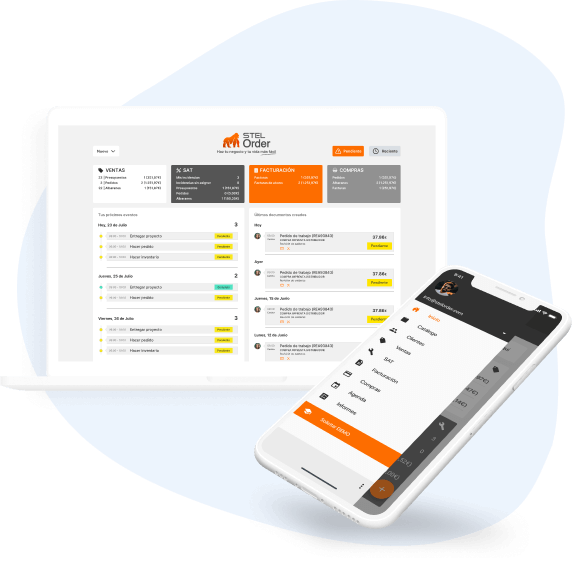 STEL Order ERP enterprise software will make your business more competitive
The ERP system for companies developed by STEL Order based on the cloud, that is, accessible from any device anywhere in the world, will provide administrative or technical staff using the software the greater dynamism, flexibility and security you need in your business.
The entire company will benefit from the data provided by all departments, so that all the information will be instantly accessible to whoever needs it, whether for administrative procedures or to make highly relevant decisions thanks to STEL Order's business software, which brings it all together in one.
Like any software that runs in the cloud, STEL Order's ERP for companies offers you:
Reduced costs.
Increased business efficiency.
Improved customer service.
Global management capabilities.
So, without a doubt, relying on ERP to manage your business will give you a unique competitive advantage over your local competitors.
Benefits of implementing the ERP for companies of STEL Order
Real-time synchronized technicians
Synchronize the work of all departments of your company, from the technical area that performs the field work to the administrative and commercial department.
Increase your productivity, sales and hiring
By having all data centralized, you can focus on improving important processes to improve your sales by simply viewing your company's information in just a few clicks.
Higher efficiency
Cost reduction compared to a traditional ERP. STEL Order allows you to invest in improving all areas of your company. In addition, adding the ease of management that STEL Order's cloud ERP puts in your hands, you will know at a glance what your strengths are and where your company should improve.
Tu servicio de atención al cliente de sobresaliente
Obtén la información necesaria de tus clientes al conocer siempre su saldo, estado, históricos de venta y mucho más. Podrás realizar envios de email a todos los clientes o mandar recordatorios a clientes deudores.
Documentación en formato digital, sin papel ni errores
Olvida la pérdida de documentación importante al tener todos los datos informatizados en la nube y respaldados por copias de seguridad, por lo que nunca perderás lo que de verdad te importa.
Aumenta la visión global de tu negocio con el software ERP para empresas
STEL Order te brinda con su ERP para empresas de primer nivel, la visión globalizada de todos los departamentos de tu empresa, con los datos en tiempo real que se están gestionando y actualizados al último minuto.
Prueba GRATIS el Software ERP de Gestión que tu empresa necesita, con toda la ayuda que necesites