Última actualización: 25/03/2019
Companies offering technical, repair or maintenance services face many situations which other types of companies do not deal with. When they get notified of an incident, which often has to be addressed urgently, they have to react quickly and start solving the problem as soon as possible. Obviously, the work that has to be performed can't be planned before the incident takes place.
In this article, we would like to show you how service companies can manage the incidents better and solve clients' problems faster, and therefore sell more.
What's the difference between preventive and corrective maintenance?
Preventive maintenance
This type of work is carried out on the planned date when the machines and system operate properly, and its aim is to prevent any type of failures that might occur. This can be just a simple revision, but also a general machinery refurbishment.
During the revision, it may turn out the machinery has or will soon have some flaws which we were not aware of earlier and that the repair service needs to be carried out.
These revisions may be repeated periodically and their frequency and all the details are agreed upon signing up a contract. A suitable method, date and place will be chosen in advance although a wrong forecast may result in causing delays later.


.

Corrective maintenance
This type of work is only carried out when a machine or system failure is detected and the problem needs to be fixed. It can't be forecasted and requires an immediate reaction of the technicians.
As it is impossible to plan corrective maintenance in advance, the way a company deals with it can be the road to success for a well-managed business. An appropriate and quick reaction is crucial here.
In the following parts of this article, we will discuss how STEL Order can be used to manage both types of maintenance.
Preventive maintenance management (planned revisions)
For that, we will use an online STEL Order calendar. This feature allows us to create a maintenance calendar which we can call "revisions", "preventive maintenance" or whatever we prefer – we will place here all the revisions we have planned in advance.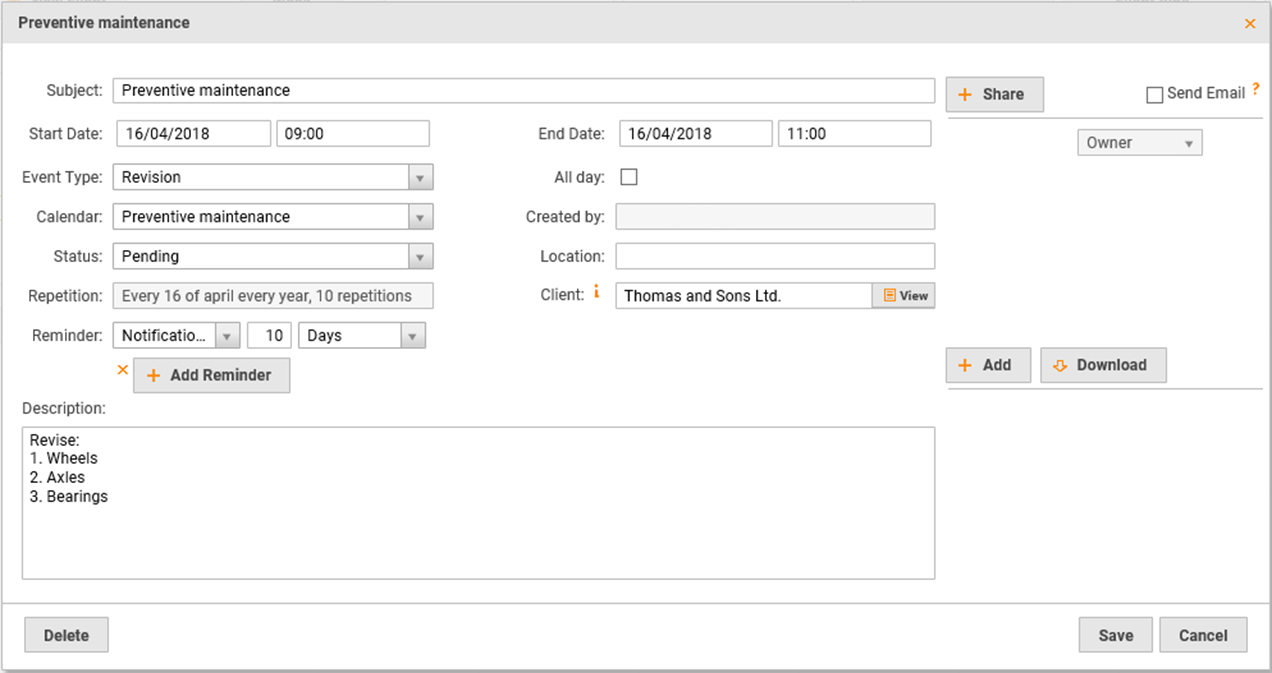 What is important is that we can specify the maximum duration of each revision, we can prepare a checklist, instructions, plans, documents etc.
Moreover, we are able to set a repetition schema so that the event is repeated automatically each month, year or period determined. We can also set a limit of x repetitions, for example a number of revisions we have specified in a contract with our client.
In order to make sure we won't miss any event, we can add reminders – we'll get a notification, for example, 10 days before the revision takes place.
When we receive a reminder, we should assign a technician to the scheduled task and enter his name into the maintenance calendar so that he gets notified as well.
If we plan preventive maintenance this way, we will have everything under control and we will be sure we won't miss any event. We'll be able to see the number of revisions which still have to be carried out for each client, check the dates and assign a technician to each task.
Corrective maintenance management
It is very important to have corrective maintenance well managed in order to offer a high-quality service to our clients and handle the incidents properly. STEL Order offers you a perfect software which will help you deal with all the unexpected issues.
We will start with the technical service software.
Usually, we don't know we'll have to carry out some work until a client calls our company and reports a problem. A person who receives the call should enter the issue into the maintenance calendar and, if needed, assign a technician to it – they will immediately receive a notification on their phone. The technician will see all the issue and client details – what and where has happened, the revisions which have already been carried out for this client etc. They will also be able to call the client directly and use the GPS to get to the right place.
Once a problem is reported, we can either let the technician decide when to carry out the service or we can specify the best date ourselves. To do that, we will enter the issue into the calendar we have created earlier, we can also have a separate calendar for each technician, for example 'maintenance – John', 'maintenance – Thomas' etc.
When the technician gets in touch with the client and reaches the place where the service should be performed, they should prepare necessary documents. Those will include, for example, an estimate, work orders (whose status can be set to 'pending', if the client declares he wants the repair service to be conducted, however, for example, we don't have necessary machinery parts at our disposal at the moment), delivery note (work report) or an invoice.
Incidents tracking
In the incidents tab, we can filter the issues by their status so what we are only being shown the pending ones.
Also, we are able to look through the issues which have already been solved, and check all the respective documents.
Signature of documents
It might be very important for your company that all the documents are signed by your clients. It is possible to collect signatures on a mobile or tablet and they can be easily written on the screen. Explanatory video
We encourage you to watch a video in which we explain how you can use STEL Order to manage the maintenance service.
If you prefer to listen to the tutorial, without watching a video, or want to download an MP3 file, you can do it here:
Get a trial version completely FREE here.
Also, you can request an online STEL Order demonstration – we will show you how to manage your company and help you find the best way to apply STEL Order to your business.
Create your STEL Order account