New version of STEL Order: 3.14.4
Share STEL Order with your business friends and save on your suscription.
Less than a week ago we released version 3.14.3 of STEL Order which included a wide range of new features and improvements. If you haven't been able to see what we've added, we invite you to watch the STEL Order 3.14.3 video.
In this version, in addition to small features that will help save time, we wanted to include something that will help you save on your STEL Order subscription. We've called it the "Friend Club".
We know that many of you continuously recommend us and also do that in a totally altruistic way. Because you are delighted with the software and service we offer.
From STEL Order we want to help you as much as possible to save on your subscription and make you a little more tolerable the complicated financial situation that affects us all.
---
1- Right button of STEL Order compatible with your browser's spell checker.. 
Some of you have told us that the new functionality of the right button of STEL Order does not allow you to use the spell checker of your browser.
As we understand that both are useful, we have made them able to coexist when you are creating or editing a budget, invoice or any other document.
If you right-click on the Name and Description fields of the line, your browser options will be displayed so that you can use the spell checker among others. If you click on the Reference field or on other fields of the line, the right button options of STEL Order will be shown.
2- To be able to duplicate Assets in clients.
You can now duplicate Assets in customers by clicking More > Duplicate, or directly by right-clicking on the list of Client Assets.

You can even duplicate the images of your Assets in clients if you wish.
3- To be able to duplicate tickets and other expenses. 
Now you can duplicate Tickets and other expenses by clicking More > Duplicate, or directly by right clicking from the Ticket and other charges list.

We remind you that this section is where you should include all the expenses of your company that are not invoices or for which you do not have an invoice, but which affect, in the same way as expense invoices, the result of your activity, such as: self-employed workers' fees, salaries, social security, income tax, fuel and restaurant tickets, insurance of all kinds (vehicles, property…) or bank commissions and interest.
4- Collect your bills faster and take a step towards the best POS.
From now, when you are creating or editing an invoice, you will see a blue button that indicates Pay. With one click, you can set your invoice to be charged and save it. It will also help you to know the change to be delivered to your customers when you cash out your shop.
To go faster you can use the CTRL key.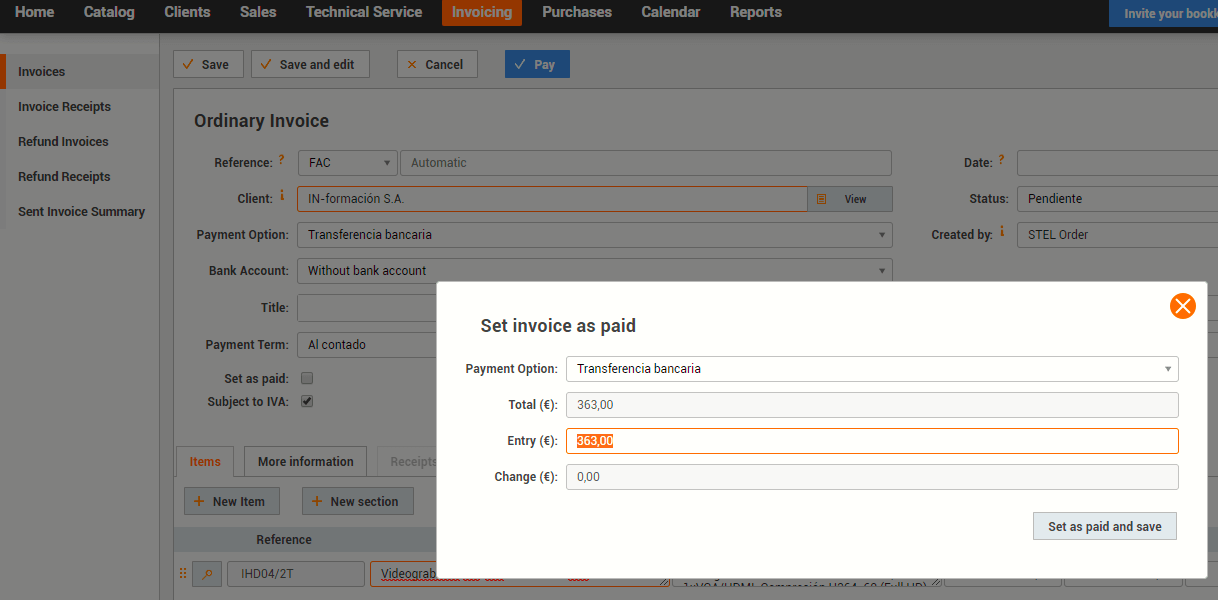 We keep working so that there is no doubt that STEL Order is the best and most complete platform for the management of your business.
We hope you like it!
STEL Order Team
---
Article translated by Carol Navarro