We have been working very hard in order to evolve STEL Order to its newest version (3.1.3), which will be available on
Tuesday 28th of April
.
We have added some new features and improvements to make its use simpler, and so you can obtain more useful information for your business.
1. Predictive searches and creating new products at any time.
You can now select from various options when you begin to type in a name into the "Name" field, so you don't have to type in the full client name whenever you create a document.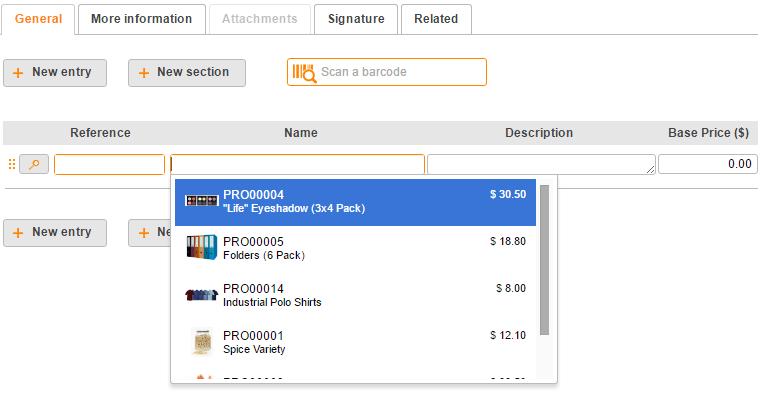 You can also create a new product at any time by typing in its name in the appropriate entry on the document. To save this product to your catalog, you need to click on the appropriate option on the results and fill in the required details.
You can also press the "Tab" button on your keyboard to jump from field to field, which saves all the information that you have entered.
You can add a new entry by using the "Alt + L" keyboard combination. If you wish to search for a document by reference number, just use "Caps + Tab" and you will go back a field.

2. Cost Effectiveness

You can find out the cost effectivenetss of your invoices, quotations and other documents with just one click.
Within the document, click on More > Margin. A window will appear with information relating to the total cost, your margin and the overall cost effectiveness of the sale (before taxes).
You can also find out more about the cost effectiveness of a document by clicking on the margin icon (%) when browsing lists of invoices, quotes and other documents.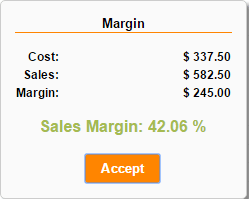 You can also calculate the margins of multiple documents at the same time. This can be helpful when you need to know the total value of multiple transactions or quotes as well as knowing how much they will cost you. Select multiple documents and then click on More > Margin.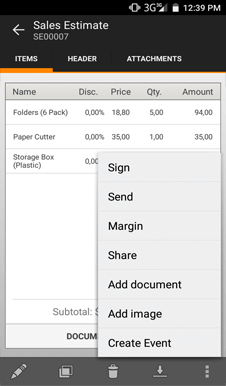 You can also do this using your smartphone.
3. Section names in your quotes and other documents
We have added a new feature so that you can define your own chapters and sections when creating quotes and other documents.
A section contains the items that are underneath it. You can drag and rearrange each section and entry as you wish, so you can create multiple sections with different items and titles as well as a general description for each section.

4. Product images and barcodes within documents
We have included a new document format in which you can include miniature images of your products. We have also included barcodes next to the reference section.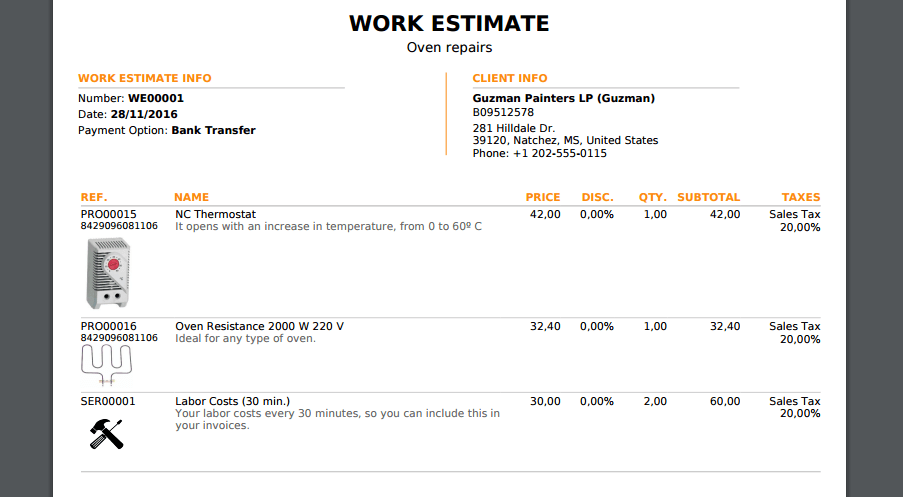 You can also preview your documents much quicker now and configure the default format and preview method that you wish to use. Once confirgured, you can use the View/Print button to preview the document in the specified format.

5. Negative unit amounts in invoices and other documents
You can now add negative unit numbers in your invoices and other documents to manage your returns and refunds more effectively.
6. Creating a document off the back of another document.
You can now duplicate any document and transform it into another type of document. Very useful if, for example, one of your clients has accepted a quotation and you need to forward them the same information in the shape of a supply order.
7. Many other small updates and fixes
Improved the exportation of invoice summaries, including new information, decimals with the appropriate separator and total amount calculations.
Increased the maximum characters permitted in various sections, so you can now include more information.
Changed the "Income" text on the main screen to "Sales".
Removed the mandatory payment option function when making a deposit into a clients account.
Other performance and compatibility improvements.
To view all of these changes yourself, you need to access the web version of STEL Order. If your mobile phone doesn't notify you automatically of the update, simply go to Google Play and update the STEL Order app manually.
We hope that this update does not cause you any inconveniences. We will be working on the update from Tuesday morning, from 7:00am till about 7:30 am (local Spanish time), so our services will not be available until the software is fully updated and online, at around 8:00am.